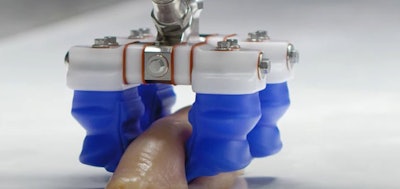 Tyson Ventures, the venture capital arm of Tyson Foods, participated in a $10 million funding round to help bring an artificial intelligence robotics solution designed to automate poultry processing to market.
"At Tyson Ventures, we are continually exploring new areas in automation that can enhance safety and increase the productivity of our team members," said Rahul Ray, Senior Director of Tyson Ventures.
"Soft Robotics' best-in-class robotic technology, computer vision and AI platform have the potential to transform the food industry and will play a key role in any company's automation journey."
Tyson Foods has invested more than $215 million in robotics and other automation technologies in the past five years. Most recently, the venture capitalist arm invested in Iterate Labs, a startup that specializes in wearable digital technology to track worker movement and improve ergonomics.
Automating bulk picking
Poultry processing facilities faced increased workforce challenges in 2020 due to the COVID-19 global pandemic. The use of robotics in processing plants could create additional space between employees in facilities, ensuring that social distancing protocols are followed.
Typically, the robot is responsible for any repetitive task, freeing up the human worker to perform more complex, thought-intensive tasks.
Tyson Foods is already an existing user of the Soft Robotics technology, which combines 3D vision, AI and soft grasping to allow for the automation of bulk picking processes of irregularly shaped objects in the food supply chain.
"Today's industrial robots are unable to deal with product variability or unstructured environments typically found across the labor challenged food supply chain in areas such as agriculture, food processing, and logistics," said Mark Chiappetta, COO at Soft Robotics.
"With our revolutionary soft grasping, 3D perception and AI technologies, Soft Robotics unlocks robotic automation by augmenting widely available industrial robots with true hand-eye coordination allowing them to perform tasks that traditionally could only be performed by human workers."
Material Impact, Scale Venture Partners and Calibrate Ventures, ABB Technology Ventures and Tekfen Ventures also participated in the funding round.
"We've been an investor in Soft Robotics since the very early stages and their progress in the last 18 months has been phenomenal. Their SoftAI solution, combining patented soft robotic grippers, ultra-fast 3D vision and sophisticated AI that evaluates a scene to autonomously choose the optimal grasping solution, is the future of robotics and an absolute game-changer for the food and logistics industries," said Kevin Dunlap, managing partner at Calibrate Ventures.
Like what you just read? Sign up now for free to receive the Poultry Future Newsletter.