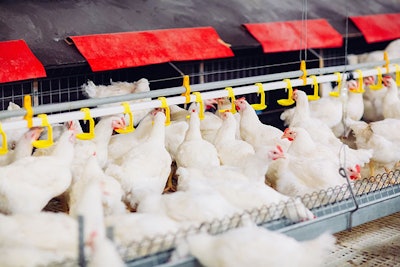 Biodegradable nanoparticle-based vaccine technology can target Salmonella, Clostridium perfringens and a range of other enteric pathogens such as necrotic enteritis.
"This is more of a platform than a strain-specific or species-specific vaccine," Ramesh Selvaraj, Ph.D., associate professor, University of Georgia, explained. "It's not just about solving Clostridium perfringens, but it can target any gut pathogen, even coccidiosis."
Selvaraj is one of the many experts scheduled to speak at the Poultry Tech Summit, scheduled for October 30 - November 1 in Atlanta, Georgia. This one-of-a-kind in-person event facilitates the transition of innovation technologies from researchers and entrepreneurs into commercial applications for the benefit of the poultry industry.
Make plans to attend and take a look at the future of the industry.
Registration for the 2022 Poultry Tech Summit is now open with early bird savings available.
Challenges of poultry gut pathogen control
Poultry gut pathogens have historically been difficult to control.
"It is not going to happen because there are so many different factors that come into play," Selvaraj said. The poultry gut microbiome could contain "1014 colony forming units per gram in the gut," he added.
Once poultry producers can control on the population of one species of bacteria, another one quickly takes its place.
Benefits of a killed oral vaccine
This is the only killed vaccine platform designed to target enteric pathogens that can be given orally via water or feed, Selvaraj noted. U.S. Department of Agriculture (USDA) regulations currently restrict the use of live vaccines in poultry production 21 days before they are slaughtered.
The vaccine platform is designed for oral use, which means broilers can easily receive multiple doses throughout their live cycle.
Attend the 2022 Poultry Tech Summit
Join an exclusive international gathering of industry-changing innovators, researchers, entrepreneurs, technology experts, investors and leading poultry producers at the 2022 edition of Poultry Tech Summit on October 30 - November 1 in Atlanta, Georgia.
Attendees can expect the same groundbreaking innovation and insightful presentations that made the previous events well-attended with deep dialogue on new prospective solutions and next-generation technologies. Poultry Tech Summit focuses on the transition of innovative technologies into commercial applications to advance the poultry industry.
Registration is now open with early savings available.