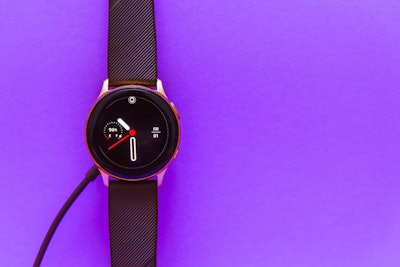 Mentore, a smartwatch app designed to train and retain workers in poultry processing, received funding from JBS and Tyson Foods.
The technology company, originally known as Iterate Labs, developed an application that uses sensors to collect data on the force, rotation, speed and directional movement of a worker's arm. Compatible with the Samsung Watch 4, the app uses artificial intelligence to determine if a worker's movement is safe.
The company previously focused on industrial wearables that monitored and record worker movements, alerting supervisors in real-time if certain motions put a worker at risk of musculoskeletal injuries.
This helps processors work on "workforce output, workforce availability and quality of work. If each of these factors can be better managed, then there is an increased output that can be achieved," the company's former CEO, Jason Guss, shared in a presentation during the 2020 Virtual Poultry Tech Summit.
Poultry processing facilities have faced increased workforce challenges over the past few years. As a result, interest in technology solutions that can help reduce labor issues and improve worker safety has accelerated.
"Up until now, collecting and analyzing data at the operator level was very challenging, but now we have the ability to improve the health and safety of every single one of our team members," said Chris McCune, JBS USA fed beef safety director, in a press release.
"At Tyson Ventures, we are continually exploring new areas of technology and artificial intelligence that can improve the health and well-being of our team members," Tyson Ventures director Rahul Ray said in a March 2021 press release announcing Tyson Ventures' investment in Mentore. "We believe Iterate Labs' Industrial IoT (Internet of Things) platform could be a game changer driving real-time visibility, safety and productivity for the North American manufacturing workforce."
Attend the 2022 Poultry Tech Summit
Join an exclusive international gathering of industry-changing innovators, researchers, entrepreneurs, technology experts, investors and leading poultry producers at the 2022 edition of Poultry Tech Summit on October 30 - November 1 in Atlanta, Georgia.
Attendees can expect the same groundbreaking innovation and insightful presentations that made the previous events well-attended with deep dialogue on new prospective solutions and next-generation technologies. Poultry Tech Summit focuses on the transition of innovative technologies into commercial applications to advance the poultry industry.