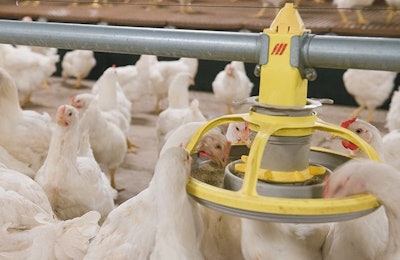 The Foundation for Food & Agriculture Research (FFAR) and McDonald's Corporation revealed the three poultry welfare technologies that will move onto phase II of the SMART Broiler initiative.
"Given the size of the poultry industry, the potential impact of this program cannot be measured," Nikki Dutta, scientific program officer, advanced animal systems, FFAR, said. "This phase was designed to specifically designed to build on the progress of phase I."
The finalists were announced at the 2022 Poultry Tech Summit.
AudioT developed a scalable, low-cost audio monitoring tools to track bird vocalizations and alert farmers to changes in broiler welfare and behavior. The technology, established at Georgia Tech University, can be a complimentary tools to video based systems.
OpticFlock, created by Marian Dawkins with the University of Oxford, is a camera system that compares and evaluates key welfare outcomes, including hockburn, foot pad lesions and lameness.
FlockFocus integrates machine learning and intelligent surveillance techniques currently used to track humans to provide real time monitoring of individual birds within a flock. The technology was originally developed at Queen's University Belfast.
The three finalists will receive a total of $1.61 million to optimize hardware and software configurations, advance data management and processing tools and justify commercial investment for the potential poultry welfare tools.
Tests will occur at two of McDonald's suppliers, the Tyson Foods Broiler Research Barn in Arkansas and Master Good in Kisvárda, Hungary. Accenture is providing program management, cloud services and technical consulting support to the Phase II awardees.
The SMART Broiler program leads the search for automated Sensors, Monitoring, Analysis and Reporting Technologies (SMART) that could enhance bird welfare and improve efficiencies for producers.
Attend the 2023 Poultry Tech Summit
Join an exclusive international gathering of industry-changing innovators, researchers, entrepreneurs, technology experts, investors and leading poultry producers at the 2023 edition of Poultry Tech Summit on November 6-8 at the Hilton Atlanta Airport in Atlanta, Georgia.
Attendees can expect the same groundbreaking innovation and insightful presentations that made the previous events well-attended with deep dialogue on new prospective solutions and next-generation technologies. Poultry Tech Summit focuses on the transition of innovative technologies into commercial applications to advance the poultry industry.
Registration for this event will open in the spring of 2023.