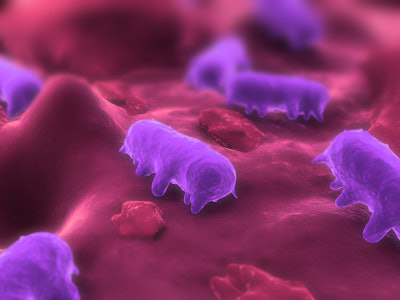 A biodegradable nanoparticle vaccine designed to be given orally could lead to improved Salmonella control in poultry.
While poultry vaccines for Salmonella do exist, this is the first oral-killed vaccine designed to be given in ovo or by spray against the pathogen.
Live-attenuated vaccines elicit mucosal immunity, but bacterial strains can regain virulence. On the other hand, killed vaccines cannot regain virulence, however multiple doses are typically required. In addition, both types have a withdrawal period.
"At a certain time, this magical vaccine should not only induce an immune response, but should disappear out of the system. That's the problem. How are you going to design a vaccine that can induce an immune response and then disappear out of the system?" Ramesh Selvaraj, Ph.D., associate professor, University of Georgia, asked at the 2022 Poultry Tech Summit.
Salmonella control in poultry is under intense scrutiny right now. In August, the U.S. Department of Agriculture's (USDA) Food Safety and Inspection Service (FSIS) classified Salmonella as an adulterant in certain types of breaded and stuffed raw chicken products. This was followed by the unveiling of a proposed framework to improve Salmonella control in poultry products in October.
How the nanoparticle poultry vaccine works
Selvarej's lab focuses on nanoparticles – materials which range between one and 100 nanometers in size – as a vaccine carrier for the oral delivery of antigens to poultry. Nanoparticles are stable on the acid pH of the gastrointestinal (GI) tract, the small size facilitate easy intake and it has an affinity to the GI tract mucosa.
Although the biodegradable nanoparticle oral vaccine technology was original developed as an approach for Salmonella control, preliminary tests have revealed that the technique can be easily modified to target gut pathogens, such as Clostridium perfringens, and a range of other enteric pathogens, including necrotic enteritis and coccidiosis.
Attend the 2023 Poultry Tech Summit
Join an exclusive international gathering of industry-changing innovators, researchers, entrepreneurs, technology experts, investors and leading poultry producers at the 2023 edition of Poultry Tech Summit on November 6-8 at the Hilton Atlanta Airport in Atlanta, Georgia.
Attendees can expect the same groundbreaking innovation and insightful presentations that made the previous events well-attended with deep dialogue on new prospective solutions and next-generation technologies. Poultry Tech Summit focuses on the transition of innovative technologies into commercial applications to advance the poultry industry.
Registration for this event will open in the spring of 2023.