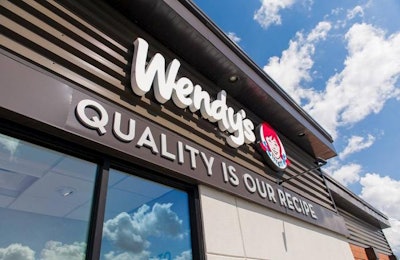 Courtesy of Wendy's
Wendy's will partner with Google Cloud to trial an artificial intelligence (AI) chatbot to take orders at the drive thru.
"Wendy's introduced the first modern pick-up window in the industry more than 50 years ago, and we're thrilled to continue our work with Google Cloud to bring a new wave of innovation to the drive-thru experience," said Todd Penegor, president and CEO of Wendy's.
"Google Cloud's generative AI technology creates a huge opportunity for us to deliver a truly differentiated, faster and frictionless experience for our customers, and allows our employees to continue focusing on making great food and building relationships with fans that keep them coming back time and again."
The automated ordering experience can engage in conversations with customers, understand made-to-order requests and generate responses to frequently asked questions, freeing up Wendy's employees to focus on serving up menu items, including the new Ghost Pepper Ranch Chicken Sandwich, according to a press release from Google Cloud. More than 75% of Wendy's traffic comes from the drive thru.
Wendy's will begin tests of the AI chatbot, called "Wendy's FreshAI," in June in Columbus, Ohio.
"Wendy's has always been at the forefront of innovation, and we're thrilled to build upon our partnership with the company with our new generative AI technologies," said Thomas Kurian, CEO at Google Cloud.
"Generative AI is fundamentally changing how people interact with brands, and we anticipate Wendy's integration of Google Cloud's generative AI technology will set a new standard for great drive-thru experiences for the quick-service industry."
Technology could solve consumer frustrations
Foodservice customers are frustrated with the quality and service of the drive thru experience and they are willing to embrace technology as a solution, according to a 2002 Presto Pulse of the Industry study.
Over 70% of respondents said that automation could help make the drive thru experience more efficient, more enjoyable and could lead to lower menu prices. Customers indicated the most comfort with the use of an artificial intelligence (AI) voice assistant for faster ordering, personalized menus, customized suggestions and order/payment using a smartphone.
Automation in the drive thru is just one of the many ways chicken foodservice brands have embraced technology to drive better engagement with the digital consumer. Other technologies include delivery robots, virtual kitchens, ordering kiosks, the metaverse and more.
"It can take some stress off the staff, especially when we're all in a situation where staffing is definitely tough," Kelley Bailie Fechner, director, customer solutions, Datassential, explained at the 2022 Chicken Marketing Summit.
Attend the 2023 Chicken Marketing Summit
The 2023 Chicken Marketing Summit will be held at Hotel Effie Sandestin in Miramar Beach, Florida on Monday, July 31 – Wednesday, August 2, 2023. Serving a unique cross section of the chicken supply chain, Chicken Marketing Summit explores issues and trends in food marketing and consumer chicken consumption patterns and purchasing behavior.
For more information and to attend, visit: www.wattglobalmedia.com/chickenmarketingsummit/.