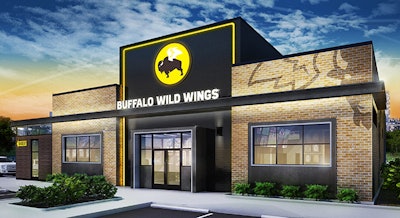 Your next chicken wing order at Buffalo Wild Wings could be prepared by an autonomous robot named Flippy Wings.
Flippy Wings – or Wingy, as it is affectionately known – uses artificial intelligence (AI) and image recognition to identify which food items need to be cooked once an order is placed. The robotics fryer can then pick up the food, cook it and place the food into a hot holding area.
This can free up back-of-house staff to focus on the preparation of other items and improving worker safety through the elimination of hot touch points and decreased oil spillage.
In addition to benefitting workers, Flippy Wings, created by Miso Robotics, could increase production speeds by 10-20%, the company said.
Automation as a solution to labor shortages
Interest in automation as a solution to labor shortages in the poultry industry – from production to processing to retail and foodservice – has skyrocketed in the past few years. These solutions are increasingly thought of to augment – not replace – human workers.
"The labor shortage is the single biggest challenge facing the restaurant industry today, and it's not going away. Miso's automation solutions, including Flippy Wings, are designed to take over tasks that are proving difficult or sometimes impossible to otherwise fill," explained Mike Bell, CEO, Miso Robotics.
"In doing so, Miso is improving the viability of some restaurants and actually enhancing their stability – ultimately protecting jobs against closures and adding jobs through a brand's ability to build more sites."
Put to the test
Inspire Brands, the parent company of Buffalo Wild Wings, plans to trial the robotic chicken wing fryer at its new ghost kitchen in Atlanta. Called Alliance Kitchen, the delivery and pick-up only concept offers food from Baskin-Robbins, Arby's, Buffalo Wild Wings, Jimmy John's, Sonic Drive-In and Rusty Taco.
The integrated setup reduces labor requirements by 54%, cuts square footage needs by 19%, decreases equipment costs by 45% and slices energy consumption by more than 50%, according to Inspire Brands.
"Technology is making a fundamental impact on the end-to-end restaurant operational model," Paul Brown, CEO of Buffalo Wild Wings parent Inspire Brands, said in a statement.
"Intelligent automation including AI and robotics will not only transform how we communicate with and take orders from our guests but also how we prepare and serve food to those guests. This transformation will ultimately result in improved efficiencies in our restaurants and an overall elevated experience for our guests and our team members."
If the tests of Flippy Wings are successful, the robotic chicken wing fryer could move to standalone Buffalo Wild Wings as early as 2022.