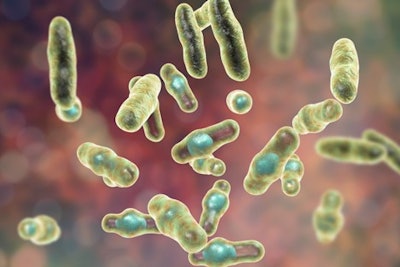 Dr_Microbe | BigStock.com
Novel antimicrobial enzymes called endolysins could combat Clostridium perfringens, the bacteria responsible for necrotic enteritis, without the need for antibiotics, according to the lab and field work from Axitan.
"We've demonstrated its efficacy in challenge studies and gotten good results from that, with significant drops in mortality. In one study, the results were comparable to the antibiotic control," said Kane Miller, CEO, Axitan. "We're now working with industry partners to evaluate it within the context of both NAE and non-NAE live production settings."
At the 2023 Poultry Tech Summit, Miller will share how endolysins could help improve necrotic enteritis control in poultry.
How endolysins target pathogens
Endolysins are antimicrobial enzymes that work by rapidly targeting and degrading the cell wall of their intended target, causing it to burst and safely disintegrate.
"What we do in our R&D lab is identify the endolysins best able to target specific pathogens, in this case, C. perfringens, and then formulate them in such a way as to deliver specific productivity benefits," Miller explained. "In our C. perfringens product for poultry, this is through incorporating the endolysins with microalgae and other components to create a dried powder feed additive that can be mixed into the feed at the feed mill."
In addition to targeting C. perfringens in poultry, Miller is exploring the use of endolysins against other pathogens in swine and aquaculture.
"We think we can apply it to a range of problematic and economically important pathogens, both in poultry and other livestock," he added.
Attend the 2023 Poultry Tech Summit
Join an exclusive international gathering of industry-changing innovators, researchers, entrepreneurs, technology experts, investors and leading poultry producers at the 2023 edition of Poultry Tech Summit on November 6-8 at the Hilton Atlanta Airport in Atlanta, Georgia.
Attendees can expect the same groundbreaking innovation and insightful presentations that made the previous events well-attended with deep dialogue on new prospective solutions and next-generation technologies. Poultry Tech Summit focuses on the transition of innovative technologies into commercial applications to advance the poultry industry.
Registration for this event is now open. Early bird savings are available.