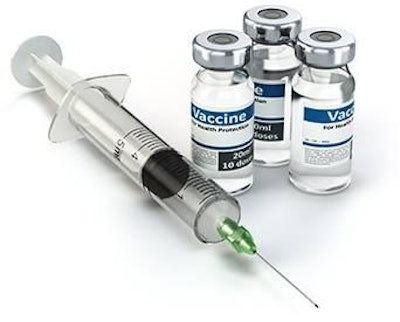 The U.S. Department of Agriculture (USDA) announced on June 3, 2015, that it is not going to approve use of avian influenza vaccines for use in the current H5N2 outbreak that the U.S. poultry industry is struggling to eradicate. In a statement, USDA said:
"The Department evaluated the efficacy of current vaccine options for HPAI in addition to economic impacts of vaccination and has determined that, as it currently stands, additional criteria must be met before a vaccine can be approved for emergency use. Vaccines currently available are not well matched and do not meet a suitable level of efficacy. USDA also wants to be sure that the vaccine industry is in a position to produce enough doses to create an effective control measure. Finally, additional outreach with trading partners will be required to avoid significant market disruptions."
The agency pledged to continue to work with researchers and vaccine companies and they develop vaccines with greater homology to the current H5N2 outbreak strain. The agency said, "USDA will continue to encourage development of vaccines for HPAI and will approve vaccines as they are developed and evaluated. Currently, there is lack of a well-matched, effective vaccine for HPAI from the public and private sectors. The vaccine currently available offers just 60 percent effectiveness in chickens, leaving 4 in 10 birds unprotected. The vaccine's effectiveness in turkeys is still being studied. USDA's Animal and Plant Health Inspection Service (APHIS) will re-evaluate its vaccination decision as more effective vaccines are developed and ready for use, carefully considering both the efficacy of the vaccine and the potential trade impacts. If used, vaccines will be targeted in the states and poultry sectors where they can be most effective. Areas where quarantine, depopulation, and enhanced biosecurity cannot stop the spread of HPAI would be prioritized."
USDA has estimated that, presently, markets for around 84 percent of the value of U.S. poultry and poultry products exports are still open. The agency states that some "significant trading partners" have indicated that use of avian influenza vaccination in any portion of the U.S. would result in bans on importation of all U.S. poultry products until a risk assessment can be completed. Because the loss of these export markets could cost U.S. poultry producers billions of dollars, the USDA has determined that the cost of vaccination to the industry far outweighs its benefits, at least with the currently available vaccines.