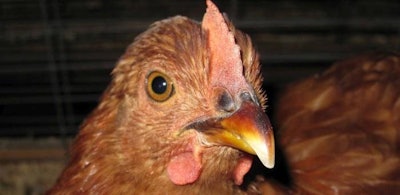 For the first time in almost five years, the H5N1 serotype of the highly pathogenic avian influenza (HPAI) virus has been detected in Republic of Cameroon. This is according to a recent official notification to the World Organisation for Animal Health (OIE).
In the last week of January, the presence of this virus was confirmed after almost 12,000 laying hens died. They were part of a flock of around 13,500 birds at a farm in the west region (Ouest). Remaining birds were culled.
The source of the infection was unknown, but this region is near to the border with Nigeria, where HPAI outbreaks have been reported.
Avian flu in Nigeria out of control
Across Nigeria, the HPAI is spreading out of control, according to a recent report in Daily Trust.
In some affected states such as Kano and Plateau, farmers complain that they have not yet received compensation for poultry that have been culled. As a result, some poultry owners have been selling off their sick birds, rather than reporting cases to the authorities.
On top of the disease challenges, farmers are struggling to respond to rapid price rises for poultry feed and other costs. In some areas, security is the biggest challenge to producers, according to this source.
Based on information supplied by this African nation's veterinary authority to the OIE, the present HPAI outbreak wave began in December of 2020. Since then, 264 outbreaks linked to the H5N1 HPAI virus serotype have been confirmed in poultry in 20 Nigerian states. More than 1.59 million birds have been directly affected as a result of mortality or culling.
The latest update from the United Nations' Food and Agriculture Organization (FAO) indicates a further 39 new outbreaks since January 12. This brings to 140 the number of HPAI outbreaks in the country since October of last year. New cases were confirmed in six regions. As well as four states where previous outbreaks have been reported, these include first cases in the capital city Abuja, and in the northeastern state of Borno.
HPAI spreads in Ghana
In the past week, Ghana Web has reported the culling of more than 2,000 poultry in the Upper East. In this northern region, samples taken from four different locations had previously tested positive for the HPAI virus. Among these were the first cases near to the regional capital, Bolgatanga.
According to this source, the country's first cases in the current HPAI outbreak wave were detected in the Greater Accra region in southern Ghana in July of 2021. Over the succeeding 7 months, mortality of poultry nationwide is put at 702,000, with 30,000 birds culled.
Around 40,000 poultry are reported to have died so far at six farms in Kpone Katamanso. Part of the Greater Accra region, this municipality recorded its first cases in January this year. It is also the location of the country's largest single outbreak so far. More than 30,000 pullets were destroyed at Delawin Farms shortly before the birds were scheduled to come into lay.
To the west of Greater Accra is the Central region, where Ghana Web reports around 20,700 birds have died, and a further 79,000 culled.
Meanwhile, in the Bono region in western Ghana, the disease has been devastated poultry farms. Up to early February, seven farms had been infected. Involving were more than 37,000 poultry, and many crates of eggs were also destroyed.
According to the FAO, 53 outbreaks linked to the H5N1 HPAI virus have occurred in six Ghanaian regions since October last year.
Disease situation elsewhere in West Africa
Ghana's Upper East region borders Burkina Faso, where HPAI was reported for the first time in seven years in December of 2021.
Also reporting to the OIE new cases of HPAI in West African poultry this year have been Ivory Coast (Côte d'Ivoire) and Niger.
Earlier this week, updates from Senegal indicate no new outbreaks in wild birds or poultry for more than one year.
In December of 2020, laying hens at one farm near in the west of the country tested positive for the H5N1 virus serotype. In the following month, the same virus was detected following a mass mortality of pelicans in the north of the country.
Three new outbreaks in South African poultry flocks
Since the start of February, the nation's veterinary authority has notified the OIE about five more HPAI outbreaks in poultry. At each location, presence of the H5N1 virus variant was confirmed during the last week of January.
Latest commercial flocks to be affected were two of 4,000 and 54,000 birds of unspecified type in the Ekurhuleni district in Gauteng. Within days, 40,000 poultry were involved in an outbreak at a farm in the west coast district of Western Cape.
Since March of 2021, 81 outbreaks have been confirmed in this outbreak series. Directly impacted have been more than 4.074 million poultry.
Also during January, two non-commercial flocks tested positive for the same virus variant. One involved a flock of 90 birds in Ekurhuleni, while the other outbreak affected 78 poultry in the iLembe district of KwaZulu-Natal.
Last month, two wild birds in Namibia tested positive for the H5N1 HPAI virus. According to the FAO, the birds were wild sea birds.
View our continuing coverage of the global avian influenza situation.