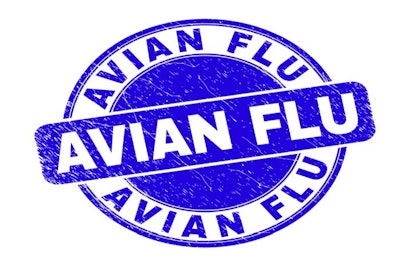 The six most recently confirmed cases of highly pathogenic avian influenza (HPAI) in commercial poultry in the United States involve five turkey flocks with a combined total of 207,200 birds and a commercial pullet flock involving 250,239 birds.
Depopulation procedures are taking place on all six premises.
According to information on the United States Department of Agriculture (USDA) Animal and Plant Health Inspection Service (APHIS) website, four of the turkey flocks were in South Dakota and the other one was in Minnesota. Two of the South Dakota flocks were in Hutchinson County – one of which involved 39,000 turkeys and the other involved 46,700 birds. There were also 43,500 turkeys in a flock affected in McPherson County and 42,000 turkeys affected in Clark County.
Twelve previous cases of HPAI have been confirmed in South Dakota. Other counties in the state with confirmed cases are Edmunds, Kingsbury, Beadle, Hanson, Charles Mix and Jerauld.
The Minnesota case was in Stearns County and involved 36,000 turkeys. That marked the second HPAI case in Minnesota, the nation's largest turkey-producing state. The previous case was confirmed in Meeker County and affected about 240,000 turkeys.
The commercial pullet flock where HPAI was recently confirmed was in Franklin County, Iowa. This marks 2022's first case of HPAI in Franklin County, but the fifth in the state. The prior cases involved two turkey farms in Buena Vista County, one layer farm in Buena Vista County and one layer farm in Taylor County.
Other states where HPAI has been confirmed in commercial poultry flocks include Nebraska, Maryland, Delaware, Indiana, Kentucky, Missouri and Wisconsin. It has also appeared in a commercial flock in the Canadian province of Nova Scotia.
To date, 45 commercial poultry flocks in North America have been affected by HPAI, which amounts to a total of 15,460,696 birds.
To learn more about HPAI cases in North American commercial poultry flocks, see an interactive map on WATTPoultry.com.
Read our ongoing coverage of the global avian influenza outbreak.