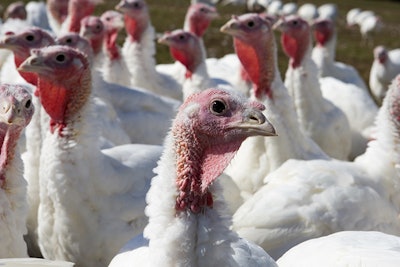 At least two of three recent cases of highly pathogenic avian influenza (HPAI) confirmed in Quebec involved commercial turkey operations, according to information provided by the World Organisation for Animal Health (WOAH).
As of July 9, three cases of HPAI were confirmed in La Jacques-Cartier, Quebec, by the Canadian Food Inspection Agency (CFIA). However, detailed information concerning the flock sizes or the types of birds in each flock had not yet been released.
WOAH has since stated that one case, confirmed in late June, involved 4,400 commercial turkey breeders, while another case that was confirmed in early July involved 16,080 commercial turkeys.
The most recent case in La Jacques-Cartier was confirmed on July 9, and WOAH has not yet released information concerning that case.
To date, there have been seven confirmed cases of HPAI in commercial poultry flocks in Quebec. Among the others, two were in Les Sources, while there was one case each in Brome-Missisquoi and Val-Saint-François.
Every province has had at least one confirmed HPAI case, whether it has been in a commercial flock, backyard flock, wild birds or a combination of two or more of these. However, the only provinces to have positive HPAI detections in commercial poultry are Alberta, British Columbia, Manitoba, Nova Scotia, Ontario, Quebec and Saskatchewan.
The current outbreak of HPAI in North America began when the virus was confirmed at an exhibition farm in Newfoundland and Labrador on December 21, 2021.
While cases continue in Canada, the last case of HPAI in a commercial flock in the United States was confirmed on June 9, in a layer pullet flock in Weld County, Colorado.
To learn more about HPAI cases in commercial poultry flocks in Canada and the United States, see an interactive map on WATTPoultry.com.
Read our ongoing coverage of the global avian influenza outbreak.