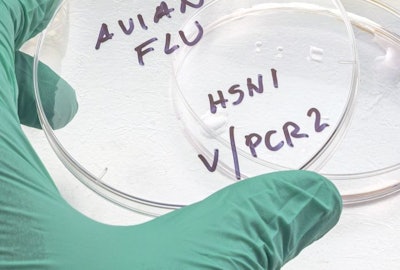 felipecaparros | Bigstock
Highly pathogenic avian influenza (HPAI) was detected at a commercial layer operation in Cajame, Mexico.
According to information from the World Organisation for Animal Health (WOAH), the farm operators noticed the presence of clinical signs such as sudden death and lesions consistent with the disease. There were about 54,000 chickens in the flock, and 33 of the birds had died.
Testing was conducted and those tests confirmed the presence of an H5N1 variant of HPAI.
The premises was quarantined, and surveillance within and outside of a restricted zone is taking place. The birds are being depopulated, and the carcasses, byproducts and waste will be disposed of. The farm is also to be disinfected.
This farm infection is the second within just weeks in Mexico. After the WOAH deemed the HPAI situation in Mexico resolved on October 4, a new flock infection was confirmed on October 30. That farm is also in Cajame, in the Mexican state of Sonora.
Between the two Cajame farms, 144000 laying hens have been lost to HPAI.
It is believed that the source of infection for both farms is contact with wild birds.
Animal health officials in Mexico are urging producers to reinforce the biosecurity measures on their farms and to immediately notify of any anomaly observed in their animals in order to protect the national poultry production.
Prior to these two outbreaks, Mexico had lost more than 6.7 million head of poultry between October 26, 2022, and July 11, 2023.
To learn more about HPAI cases in commercial poultry flocks in the United States, Canada and Mexico, see an interactive map on WATTPoultry.com.
Read our ongoing coverage of the global avian influenza outbreak.