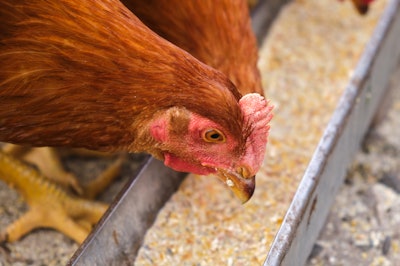 Nicolae Malancea | istock
Highly pathogenic avian influenza (HPAI) has been confirmed in a commercial layer flock in Taylor County, Iowa.
According to the United States Department of Agriculture (USDA) Animal and Plant Health Inspection Service (APHIS), the case involved 1,121,300 layer hens and was reported on November 14.
The last HPAI case in Iowa was confirmed on November 1. That case involved 30,000 turkeys in Buena Vista, Iowa. In 2023, Iowa has reported five cases of HPAI.
Also on November 14, APHIS reported HPAI in a commercial turkey flock in Jasper County, Missouri. According to APHIS, 27,300 turkeys were involved.
Missouri previously confirmed HPAI in broiler breeders on November 6. The affected broiler breeder operation is in Benton County, Missouri, and involved 16,600 birds. Before that, the last time the state had seen a commercial flock affected by HPAI was November 28, 2022.
So far in 2023, the following states have had confirmed HPAI cases in commercial poultry or commercial gamebirds: Alabama, Arkansas, Minnesota, California, Iowa, South Dakota, Utah, North Dakota, Pennsylvania, Illinois, Kansas, Mississippi, Virginia, Missouri and Tennessee.
HPAI also confirmed in British Columbia
In Canada, HPAI was confirmed in the City of Abbotsford, British Columbia, according to the Canadian Food Inspection Agency (CFIA). The size of the flock and the type of birds involved has not yet been disclosed.
British Columbia has had 105 commercial poultry flocks affected by HPAI since the virus first struck the Canadian province's poultry industry on April 13, 2022. Nearly half (51) were reported in Abbotsford, including 4 earlier this week.
View our continuing coverage of the global avian influenza situation.
To learn more about HPAI cases in commercial poultry flocks in the United States, Mexico and Canada, see an interactive map on WATTPoultry.com.