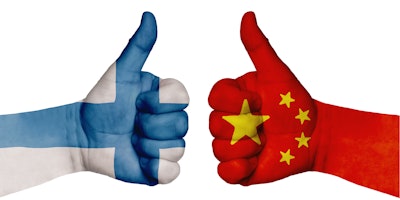 SkazovD | Bigstock
HKScan is gearing up to start poultry meat exports from Finland to China, with the first shipments expected to be made in the first few months of 2024.
While HKScan currently exports pork products from Finland to China, this marks new territory for the company, which was recently granted approval to export poultry to China.
"The possibility to export poultry meat to China is a great, long-awaited step for the whole industry. It is also a proof of the high quality of Finnish meat. The Finnish authorities have been very supportive of the domestic food industry's export efforts. My warmest thanks to all those who have helped to make this happen," said Juha Ruohola, CEO of HKScan.
The products expected to shipped will primarily be paws and wings. The products will be from the company's plant in Rauma, Finland.
HKScan, according to the WATTPoultry.com Top Poultry Companies Database, is the largest poultry producer in Finland and the 27th largest in Europe. In 2022, the company slaughtered 95 million broilers.
In addition to being active in the broiler and pork industries, HKScan is also active in turkey, duck, beef, lamb and plant-based protein production.
The company presently operates in Finland, Sweden and Denmark. Earlier this year, HKScan divested of its operations in Estonia and Latvia, selling them to Estonian company AS Maag Grupp.