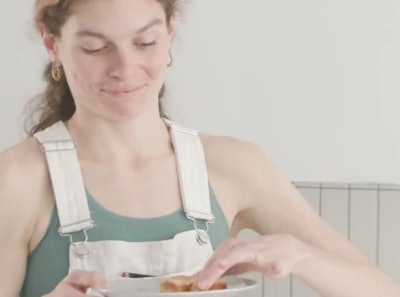 Screenshot from Burnbrae Farms | Twitter
Every once in a while, the thought about starting to run again crosses my mind.
However, it seldom goes beyond being a thought. I will sometimes participate in the 1-mile race of an annual fun run to benefit local high school athletic programs. But I'm active enough in my day-to-day routine that no training ever has to go into it. As long as I run the mile in a little less than double the amount of time I used to, and I don't have to stop and walk, I'm fine with that.
This week, a co-worker told me she was going for a run and wouldn't be reachable for a while. She knew I was a decent runner once upon a time, and asked if I ever ran anymore. Basically I told her what I already wrote.
There might have been a little bit of peer pressure to lace up and go for a jog, but that didn't last.
Then, scanning through Twitter for possible news leads, there it was. There was a video featuring Olympian Maddy Kelly, who represented Canada in the 2020 Olympics in Tokyo, where she competed in the 800 meter run.
Hmm. Of my four main events, the open 800 and the 4X800 meter relay were my favorites. Were people trying to tell me something?
Anyway, the video shows Kelly preparing Burnbrae Egg Bakes in the microwave oven, saying "essentially it's a crustless quiche." She jogs in place while they are spinning in the microwave, and says it takes about the same amount of time as it takes her to run 800 meters.
I know she's fast, but a 90-second half? I guess she was also factoring in poking the microwave buttons and removing the plate, and other parts of the process.
I learned that Burnbrae Farms is a sponsor of Kelly's. On the Canadian egg company's website, she explains that she is quite a fan of eggs and their nutritional benefits.
"I actually wasn't an egg lover as a kid, but I came to love them in university. I started obsessively watching cooking videos and every chef said, the true test of a cook is their ability to make a soft scramble and a French omelette. Beyond the challenge of learning something new (I've always loved a challenge) eggs were, frankly, affordable protein and I wasn't exactly rolling in money at the time," Kelly stated.
"So I learned how to cook eggs, and cook them well. They remain a staple in my diet, and the thing I cook for people I love on a weekend morning, an easy weeknight supper, and especially before any training session. Their high protein content keeps me full for hours!"
It sounds like she is a perfect pitch person for Burnbrae, but can she motivate us has-beens to hit the track again?
Probably not this one anyway. As my running got more and more sporadic as I got older, I got out of shape and it no longer came easily to me. Somehow, I just decided it wasn't really fun for me anymore.
I realize that makes me sound kind of lame.
So I'll just say this: Since Burnbrae is a Canadian company and I don't think you can get its products at stores where I live, I guess I won't get that big motivation to run again.
Still lame, but that's my story and I'm sticking to it.