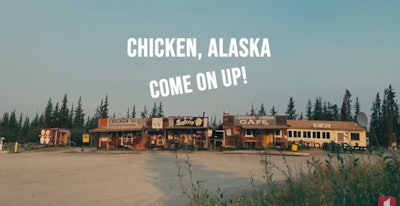 Screenshot from Jack In the Box | YouTube
When a town has a name like Chicken, it is sure to get noticed, even if it has a tiny population and is in a remote area.
The residents of this small community in eastern Alaska got themselves a nice treat, courtesy of the folks from Perdue Farms, in what has to be one of the most clever ways to observe National Fried Chicken Day, which was July 6.
On that day, the residents of chicken were treated to a downtown party with Perdue's Grandma's Secret Buttermilk Fried Chicken as the main entrée.
"We celebrate all chicken every day at our headquarters here in Maryland, and when we discovered the town of Chicken, Alaska, we thought National Fried Chicken Day was a perfect opportunity to connect our shared interests coast to coast," said Chris Perdue, Vice President of Direct-to-Consumer Marketing at Perdue Farms and fourth-generation Perdue family member. "We are thrilled to team up with Downtown Chicken to provide the townspeople with a party featuring our favorite Perdue fried chicken recipe to celebrate this delicious day."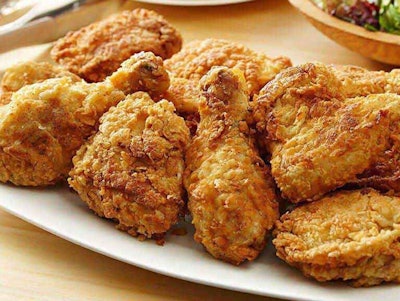 According to a press release from Perdue, which was issued prior to the celebration, it took some creative planning to orchestrate the National Fried Chicken Day observance, since the Alaska town has no electricity, telephones or internet. Also, mail is only delivered there two times a week.
But Perdue and Chicken persevered, and Sue Wiren, who is a co-owner of the unincorporated town, had this to say prior to the party: ""My son, Max, and I are absolutely thrilled about our participation with Perdue Farms on National Fried Chicken Day. Everyone here will be able to enjoy delicious chicken in our beautiful little town of Chicken, Alaska! Thank you, Perdue Farms for reaching out to us and making this event happen."
I have not seen anything on how successful the event was, after all, without telephones or email, it might be a while before I learn, but we can all hope it went well.
About Chicken, Alaska
The town does have a website, which explains the history of Chicken. In the late 1800s, early miners made their way there in search of gold. And without an abundance of food, the miners often had to eat ptarmigan, a bird that resembles a chicken, to survive.
The town founders wanted to name their community after that bird, but it wasn't a word that was easy for everyone to spell. So, they settled on Chicken.
The village generally has a population of less than 40, but it does pick up in the summers with the arrival of miners, bringing it to close to 100.
Not the first time Chicken has gained attention
While Perdue's outreach to Chicken was both generous and clever, it wasn't the first time someone along the chicken supply chain did something kind for the town.
In 2021, in the early stages of the chicken sandwich wars, as a way to promote its Cluck Sandwich, Jack in the Box promoted its brand by "buying" Chicken, Alaska. A comical video included in a press release shows a fictional negotiation between the quick service restaurant chain and the town's owners.
But near the end of the video and release, it is disclosed that Jack in the Box didn't really buy Chicken. "That would be pretty ridiculous. Just as ridiculous as the chicken wars themselves."
But Jack in the Box did donate $10,000 to the town to help it with COVID-19 pandemic recovery.