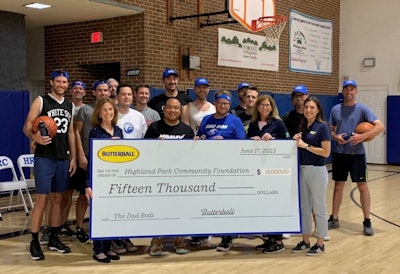 Courtesy Butterball
The community of Highland Park, Illinois, was struck by tragedy on July 4, 2022, when a mass shooting occurred at an Independence Day parade, killing seven people and injuring many more.
Dad Bods unite
A group of Highland Park men refused to let something so horrific depress them. Instead, they joined together and formed a stronger sense of community. They did this with the formation of the Dad Bods, a group of fathers who started playing basketball together on Tuesday nights.
"So the Dad Bods, it's a bunch of dads in the neighborhood that got together and started playing basketball," founding member Dave Potocek said in a YouTube video. "We got together last summer after July 4."
Potocek explained that after the parade, he and a few of his neighbors were talking about how winded they got when running with their families to safety after the violence at the parade started. They realized that they needed to get into shape, "and then we just started doing it."
What started out with just a handful of dads in Potocek's neighborhood has since grown to a group of about 40 who gather to play ball.
Butterball notices common thread
Early in the summer of 2023, company officials at Butterball learned about the Dad Bods, and they couldn't help but be impressed with their story.
"When we heard their story, we loved it. We felt like this really represents everything we stand for at Butterball," said Christa Leupen, Butterball's Director of Consumer Communications and Purpose.
Potocek and his neighbors, weren't just playing ball, they were "building community inside their own community," and connecting to do something good and "pass love on."
Leupen connected with Potocek, where she learned more about the formation and evolution of the Dad Bods. The more Butterball learned of them, the more they wanted to get involved.
"Dave told me that one of the really great things that has come out of this is they are neighbors, so they're people that might see each other passing on the street, but they didn't necessarily all know each other. This gave them an opportunity to really get closer to their neighbors. Now, they're looking out for one another. It's not just somebody they know that lives five houses down, it's somebody they play basketball with and their kids go to school together. They formed those extra points of connection," she said.
Introduction of the Butterballers
Leupen said the company wanted to recognize the Dad Bods for the good thing that they are doing to improve a sense of community in Highland Park. And the company also felt strongly their consumers would be impressed with what the Dad Bods are doing.
"It's definitely something that resonates with our consumers. They like to see how we are bettering the world outside of just making turkey products. Our consumers know us because of our turkey products. We've been bringing people together for 70 years around Butterball turkey. But they also want to know a little more about the company behind the products that they buy. (Supporting the Dad Bods is) a great way to show that we hare a company that stands for more than just delicious turkey. We're a company that stands for bringing people together and for passing love on. This is truly why we exist," Leupen said.
Leupen and Potocek arranged an evening where the Dad Bods would get together and play and she would also be present. The players' family members were invited to watch.
Prior to them hitting the court on June 17, Potocek read a letter to the fellow Dad Bods, in which Butterball explained how the company was so touched by their story, they wanted them to be known as "Butterballers." They opened a box that contained jerseys with the Butterballers team name on them. The jerseys were yellow and blue, the same colors of the company's logo.
After they entered the gymnasium to the applause of their family members, Leupen joined the team on the court with a large symbolic check to commemorate Butterball's $15,000 donation to the Highland Park Community Foundation on behalf of the Dad Bods.
The presentation drew much surprise and a few tears from the players and their audience.
"Dave Potocek and I think maybe one or other folks knew because we needed to connect with them to get shirt sizes, but it truly was a surprise. I don't think any of them knew everything that we were going to do, other than Dave," Leupen said, adding that Potocek helped Butterball identify the foundation as a worthy cause to help ease some of the pain caused by the parade tragedy.
Foundation Chairwoman Betsy Brint was also present for the presentation, thanking not only Butterball, but the Dad Bods who ultimately led Butterball to make such a donation.
"I really, really want to thank you, Dave, and all of you Dad Bods and what you guys have done by putting your thoughts and feelings into action on the court," she said. "I know we were all affected greatly by what happened on July 4, and this is how we can help our community come together. I'm so glad your families are here to witness what heroes you guys are."
The first, but not the only Butterballers
Butterball did not want to stop honoring those who build community through sports with their recognition of the Dad Bods as the first Butterballers team. So a contest was held to find the next team to bear that name.
The company found it in a Seattle softball team called the Leftovers. A separate article about that team will appear on WATTPoultry.com at a later date, as well as some "internal Butterballers," who are company employees who are doing good things to bring their communities together.