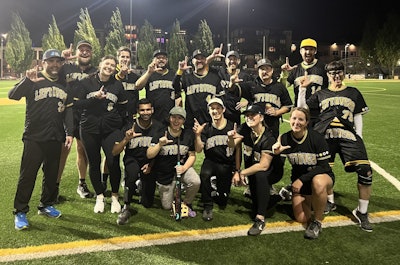 Butterball | Facebook
Typically, when people think of Butterball and leftovers, the idea of reheating turkey the day after Thanksgiving or Christmas comes to mind.
But a more recent association between the two has little to do with eating, and more to do with burning calories.
The nation's largest turkey company recently honored a Seattle softball team known as the Leftovers, and gave them the additional team name of "Butterballers." It was the second amateur sports team to earn the distinction. A group of basketball players in Highland Park, Illinois, known as the Dad Bods, was the inaugural group of Butterballers.
As mentioned in a previous blog post, the Dad Bods formed after a mass shooting occurred in their community during a July 4 parade. Realizing they were out of shape after trying to run to safety with their families, a group of dads got together to play basketball, and in the process formed a special bond.
That group impressed Butterball so much, the company had special Butterballers jerseys made for them. Butterball also donated $15,000 to the Highland Park Community Foundation on behalf of the Dad Bods during a June 17 presentation.
Butterball Director of Consumer Communications and Purpose Christa Leupen said the company was impressed with how the Dad Bods came together and found a way to "pass love on." But Butterball also knew the Dad Bods weren't the only group who has found such a strong sense of unity.
"We wanted an opportunity to do this again in another way, so that led to the launch of a nationwide search that we opened up, where people could share their stories with us," Leupen said "We focused on amateur sports teams. Food has the ability to connect people, and sports also does."
That search opened on June 29 via social media, and exactly one month later, they found their second Butterballers team in the Leftovers.
Every member of the team wanted to play ball, but struggled to find a spot on a team. These people who referred to themselves initially as "free agents," didn't let that deter them. Instead, they took matters into their own hands.
"It can be really hard to meet new people in the Seattle area. It ca be hard to find your circle of people, and the Leftovers were this hodgepodge group of people. None of them knew each other, but they all came together and formed this team," she said. "Now they're friends, and they're community."
On September 13, Butterball officially announced the Leftovers as their second team of Butterballers, and made a $15,000 donation to Seattle Adaptive Sports, an organization that allows children and adults with disabilities to play in competitive sports leagues.
"That was a group that was really important to them," Leupen said.
Internal Butterballers
Realizing that within the Butterball organization, there were numerous employees who also embraced the concepts of community and bringing people together, an internal Butterballer search took place.
The company asked workers how they brought people together and pass love on in ways that improve general health and well-being.
Winners were randomly selected from all entries. Butterball will make a $500 donation on behalf of the following team members to a non-profit organization of their choosing:
Maria Del Carmen Garcia – Children's Haven of Southwest Missouri
Danielle Taylor – WakeEd Partners Read
Jacinda McConnell – Huntsville Kiwanis
Terri James – Hope House
Walter Chegwidden – Multiple Sclerosis Society
Billie Sue Turner – Dementia Alliance of North Carolina
Kassy Kohls – Ozark Area Youth Organization
Anthony Davis – Team Workz Organization
Furthermore, an executive committee selected Children's Haven of Southwest Missouri as the grand prize winner. The non-profit will receive an additional $1,000 donation from Butterball on behalf of Maria Del Carmen Garcia.