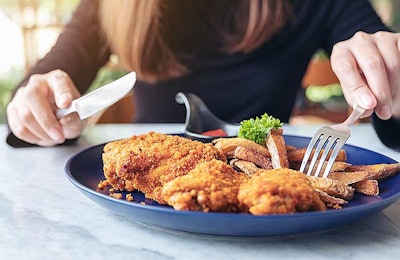 Colorado Gov. Jared Polis' stock understandably went down with many people in his state and beyond when he recently signed a proclamation that declared March 20 as MeatOut Day.
That's certainly not the kind of thing livestock and poultry producers like to learn about.
It even became the topic of discussion at a beef industry event in a bordering state.
During Kansas State University's 108th Cattlemen's Day, held virtually on March 5, Jayson Lusk, Purdue University distinguished professor and agricultural economics department head, who has spoken at numerous events across the animal protein industry in recent years, was asked how much of an impact on the industry things such as MeatOut Day can have.
Lusk, who also received his Ph.D. from Kansas State University, said that question would be a good topic of research, and at this point, he had not seen that any research on the matter had been done.
But, he had reason to believe that Colorado's MeatOut Day will not have a very large impact on the industry, given previous impacts of voluntary Meatless Monday observances and the fact that whether a person participates in MeatOut Day will be entirely up to them.
"One thing that has been pretty remarkable over the course of the last five or six years is that measures of beef demand have remained very strong, and that's occurred over a time period where there's been a lot of negative publicity directed at beef," said Lusk.
Among that negative publicity Lusk mentioned are campaigns that claimed red meats cause cancer, and others that seek to tie livestock production to global warming.
"Despite all of that, our measures of demand look pretty strong. Maybe they could have been stronger if it wasn't for some of this adverse attention that the industry has attracted, but nonetheless, I think the industry seemed to have weathered that storm pretty well," he said.
That doesn't mean that the beef industry -- or the pork or poultry industries – shouldn't be concerned.
Voluntary cutbacks of meat and poultry consumption Lusk projected, would have "fairly minimal impacts."
However, when those meatless initiatives are approved by states, municipalities or school districts, and meat-free days are a mandate at institutional cafeterias, that is "more problematic."
Countering meat-free initiatives
In response to Polis' proclamation, The Weld County Board of Commissioners decided to proclaim its own "Weld County Ranching, Livestock and Meat-In Day," reported KDVR.
"When Gov. Polis declared March 20 as MeatOut Day, it was a slap in the face to the thousands of ranching and farm families across this state. It was yet another hit against rural Colorado," Weld County Commission Chairman Steve Moreno said.
As a point of reference, the Weld County seat is Greeley, which just happens to be where JBS USA and Pilgrim's Pride are headquartered. So not only was Polis slapping the livestock producers of the county, but also a major employer. It's no wonder why the commissioners and residents of that county were none too pleased.
Let's prove Lusk's hunches to be correct and make sure that the Polis' proclamation has no meaningful impact on the broiler, turkey, pork and beef industries. When it comes to meat on March 20, be sure you go back for seconds.