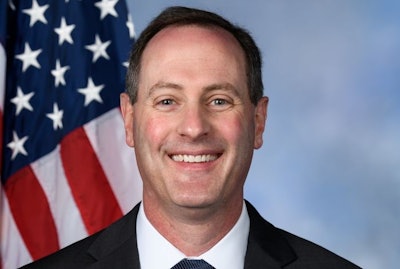 A freshman congressman serving on the U.S. House Agriculture Committee says there is not near enough talk within the committee regarding concentration and consolidation in the meat and poultry industries.
Rep. Tracey Mann, R-Kansas, during a telephone town hall meeting on September 23, said that the issue is hugely important to him, since he grew up in a cattle farming family and that Kansas' First District, which he represents, is the No. 1 beef producing district on the country.
This issue has become a high priority for some senators, such as Montana Democrat Jon Tester and Iowa Republican Chuck Grassley. It has been ever since JBS was the victim of a cybersecurity attack, the proposed merger between Wayne Farms and Sanderson Farms was announced, and JBS revealed its plan to buy out the remainder of the shares of Pilgrim's Pride.
However, Mann said most of his colleagues on the House Agriculture Committee apparently don't find industry consolidation as important as he does. For instance, he said that several days ago during what he called a "heated" agriculture committee meeting, much discussion was given to proclaiming July as National Blueberry Month.
"I don't have anything against blueberries, but the ag committee needs to be spending time talking about consolidation in the meat industry. We need to talk about markets. We need to talk about the next farm bill. So, I was pretty furious, as were others in the committee," said Mann.
"I have a lot of concerns with the consolidation we're having. I have a lot of concerns with the process that we're seeing, and just how the markets seem to be out of whack."
Mann says more competition is needed
Mann said he knows that the U.S. Department of Justice is investigating industry consolidation matters "to make sure that nothing illegal is happening."
But he also thinks more should be done. More competition is needed in the industry, and he believes a role of the government should be to provide more incentives for other processors to increase competition.
Foreign ownership of U.S. packers and processors
Mann also said there needs to be more dialogue about and more scrutiny concerning foreign ownership of meat and poultry processing facilities in the United States. While Mann didn't name any specific companies, National Beef, of which Brazil's Marfrig Global Foods holds the majority of shares, has two plants in Mann's district. One is in Dodge City and the other is in Liberal. Tyson Foods and Cargill also operate beef plants in Mann's district.
According to Mann, technology companies "can't be bought by a foreign company without a stringent review process" to make sure the acquisition would be in the United States' best interest.
However, Mann said agriculture companies have largely been "exempt from" that same type of review process. That is something he thinks should change.