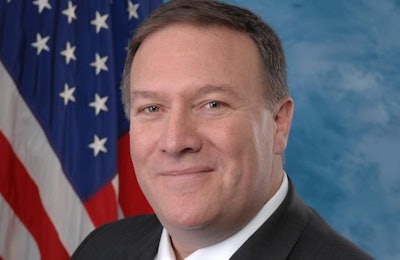 Mike Pompeo's presence in the media and in the public mind has shrunk since his days as a member of Congress, the Central Intelligence Agency director, and U.S. Secretary of State. Coincidentally, his overall presence has also shrunk.
I first met Pompeo a little over 10 years ago, when he was either a freshman member of Congress, or possibly when he was campaigning for the position. I don't recall now. However, I do remember he was giving a talk in the library of a small college in south-central Kansas. At the time I was the editor of a daily newspaper in Pompeo's district, and I interacted with him several times over the next few months.
One impression he always left was that he was a big man. I never really thought of Pompeo as chubby, just big. Maybe his big voice and the fact that he was once in the top of his class at West Point just made me think that his largeness wasn't the same thing as a weight problem.
But apparently, Pompeo decided that he in fact did have a weight problem and he needed to make some changes. The political figure has reportedly lost about 90 pounds, and based on the photos I have seen, I believe that is an accurate number.
So what has been the secret to his weight loss? Well, more exercise played a factor. However, there were also some dietary changes, eliminating French fries and other unhealthy foods. And he told the New York Post about one change that I know will please readers of this blog in the turkey and egg industries.
He said his family had always enjoyed eating at IHOP, where his favorite item to order were pumpkin pancakes, which he drenched in syrup. However, an adjustment had to been made, he said.
"We still go there as a family – it's important to not take those traditions away. Now we get egg whites and turkey bacon," Pompeo said.
Maybe others who are seeking to slim down will follow Pompeo's example of eating egg whites and turkey bacon.
Think what you want to about Pompeo's stances as a political figure, but there is no denying he is a smart man. He recognized the health benefits of these products and is enjoying the results.