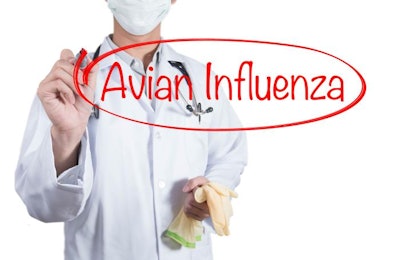 mashi_naz | Bigstock
To date, more than 31 million birds in the United States commercial poultry industry have been lost to the highly pathogenic avian influenza (HPAI) outbreak of 2022.
That is a number that is practically unimaginable to most of us. And we need to keep in mind that these are just cases in commercial poultry and that figure does not include the backyard poultry flocks and wild birds that have also been affected by the virus.
The staff at WATT Global Media has been busy reporting the developing stories of this outbreak, and the situation changes daily.
A unique thing about this outbreak is that practically every type of poultry flock that is raised in the United States has been infected. And at the conclusion of the past week, we broke those HPAI infections down by the type of flock.
As of April 22, the United States Department of Agriculture (USDA) Animal and Plant Health Inspection Service (APHIS) had reported that there were confirmed cases in 147 commercial poultry flocks, resulting in either the natural death or the depopulation of a total of 31,022,600 birds.
While the overwhelming majority of the HPAI cases in the U.S. this year have been in turkey flocks, it is the commercial egg industry that has lost the most birds because of the larger flock sizes in layer operations. But the broiler, duck and upland gamebird industries have also not been immune to this outbreak.
The figures below came from information released by state agencies, APHIS and the World Organisation for Animal Health (OIE).
Egg industry losses
The current tally on U.S. commercial egg laying operations to be impacted by HPAI in 2022 is 14, with 23,231,000 hens lost.
Two of those flocks – both of which were in Iowa – involved more than 5 million layers, while another case in Wisconsin had nearly 3 million hens affected, collectively making up more than half of the U.S. layers lost to the outbreak.
In addition to the layer flocks to be affected, three pullet operations have also been hit by HPAI, which collectively amounts to 809,000 birds. One table egg breeding operation was also infected, and that flock included 15,000 birds.
Turkey industry losses
In 2022, 102 commercial turkey operations have been affected by HPAI, amounting to 4,411,000 turkeys. The largest affected flock involved 240,000 birds in Meeker County, Minnesota.
There have also been six turkey breeder hen flocks affected, for a total of 170,000 hens affected. A turkey breeder replacement hen flock of 68,600 birds was also impacted by HPAI.
There was also one case of HPAI in a turkey breeder flock and one case in a poult flock, involving 6,900 and 8,100 turkeys, respectively.
Broiler industry losses
Ten U.S. broiler operations have been lost to HPAI in 2022. The two largest operations affected were both in Butler County, Nebraska. Collectively, those two cases involved 987,000 birds. Those two cases, combined with the third largest U.S. case, which involved 294,800 chickens in Stoddard County, Missouri, account for more than half of the 2,214,900 broilers lost to HPAI in 2022.
A broiler breeder flock of 60,000 birds has also been lost to HPAI this year.
Duck industry losses
Two commercial duck flocks have been affected by HPAI, accounting for 13,000 birds. In addition, a duck breeder flock of 4,700 birds was also infected. All three cases were in Indiana.
Upland gamebird losses
Three commercial upland gamebird operations have had positive confirmations of HPAI in 2022. One was in Texas, one was in New York and one was in South Dakota. The total of those three cases is 9,000 birds.
To learn more about HPAI cases in North American commercial poultry flocks, see an interactive map on WATTPoultry.com.
Read our ongoing coverage of the global avian influenza outbreak.