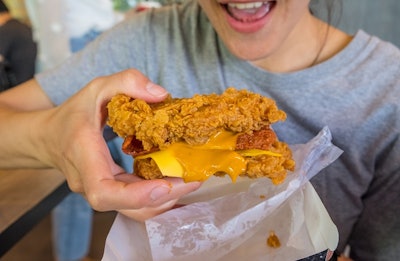 Boysloso | BigStockPhoto.com
KFC is bringing back its Double Down sandwich that features two pieces of fried chicken as a bun replacement.
With its campaign that claims "no buns necessary," the bun-less sandwich includes two of KFC's Extra Crispy white meat filets, two slices of cheese, two pieces of hickory-smoked bacon and a choice of either the Colonel's real mayo or the spicy sauce.
KFC originally debuted the Double Down in 2010 where it sold over 10 million sandwiches in the first month. After continued consumer demand, the chain brought it back in April of 2014 for a short time.
This new version of the sandwich is slightly different than before. The 2023 version features more sauce options and a filet that is about 20% larger than the 2010 filet, explained KFC's CMO Nick Chavez in an interview with Nation's Restaurant News.
"The Double Down is one of the most buzzworthy fast food menu items ever," Chavez stated in the restaurant chain's press release. "After nearly a decade of people begging for its return, we're embracing the chaos, bringing back our most iconic sandwich ever for just four weeks."
The Double Down is available nationwide until April 3rd. While sandwich prices start at $8.99 and combo meals with the Double Down start at $11.99, prices vary by location. Even though the sandwich hasn't been available in the U.S. since 2014, KFC has continued to offer the product in other parts of its global markets since then.
Since the sandwich's 2023 release, multiple social media content creators have given their opinions on the product, one being YouTube food reviewer theendorsement who called the product "insanity in sandwich form" and gave it a 90/100 rating.
While it might not be an everyday meal, I'm all for the sandwich. It increases chicken consumption, has potential to kickstart the chicken sandwich wars that happened in 2019 and might encourage other fast-food restaurants to release their own version.
If the sandwich does well on its trial run, maybe KFC will make the item a permanent offering. Even if it doesn't, I'll be trying the bun-less sandwich before it disappears from KFC's menu again.