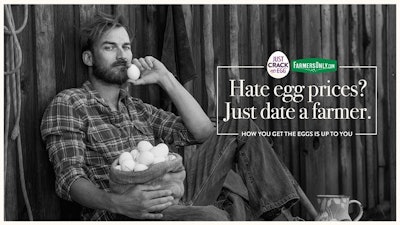 Egg scramble and omelet kit company Just Crack an Egg has partnered with dating website FarmersOnly.com to help encourage consumers to buy eggs.
Consumers who purchase a Just Crack an Egg scramble product can upload their receipt to www.justdateafarmer.com to receive a unique code for a free, premium year subscription to FarmersOnly.com.
The catch is, each Just Crack and Egg scramble product requires at least one shell egg as an ingredient.
"Finding affordable eggs has become a pain point for many Americans, and since consumers need to crack a fresh egg to create their own delicious Just Crack an Egg scramble, we wanted to help egg lovers find an unconventional solution while providing a little humor along the way," said Kelsey Rice, Just Crack an Egg Senior Brand Manager.
Just Crack an Egg scramble products come with ingredients like cheese, vegetables, potatoes and meat. After cracking an egg into the packaging, consumers can quickly cook an egg scramble in the microwave in less than 2 minutes.
The company's scramble egg products are available in seven different flavors including Denver, All American, Ultimate Rustic, Protein Packed, Southwest Styles and Veggie.
"As the first refrigerated breakfast scramble, Just Crack an Egg has a history of cracking conventional thinking. We know there are farmers out there with a plethora of eggs, so by partnering with FarmersOnly.com, we are making it easy to connect those searching for eggs- how they get the eggs is up to them," stated Rice.
Currently, FarmersOnly.com has over 1.5 million farmers subscribed and hopes the new partnership will give egg lovers the opportunity to meet a farmer.
"At Farmers Only, we're all about creating a solution for people trying to find their perfect match and now, for finding eggs," said Farmers Only representative Michael Gober. "We're excited to partner with Just Crack an Egg for a fun solution to getting eggs, and potentially a date with a farmer."
Dating an egg farmer is definitely an unconventional solution to getting cheaper eggs. However, according to Brian Moscogiuri, Eggs Unlimited Global Trade Specialist, wholesale egg prices have dropped in the last few weeks because no avian influenza cases have been detected on U.S. layer farms since December 2022. So, it may soon be cheaper to just buy a carton of eggs than it is to date an egg farmer.