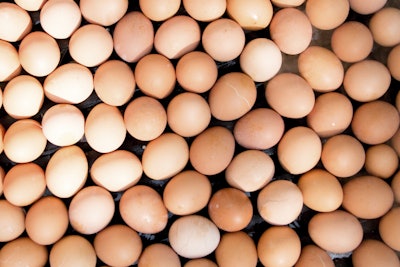 The China Chain Store and Franchise Operation (CCFA), representative of retailing in China, set the country's standard for the production, distribution, and sale of cage-free eggs in late October of this year. The specifications were developed by the CCFA and the China Animal Health and Food Safety Alliance (CAFA), IQC, a farm certification company, and egg producers in the country.
Corporate cage-free commitments are the main driver of increased cage-free production. Commitments in China include ALDI, Costco, City Shop, and more.
"Any egg producers or food companies including retailers, restaurants, FMCG and hotels that meet the standard after being verified by CCFA will be entitled to mark 'cage free' on their packaging or advertising materials," stated Chu Dong, Vice President of the CCFA.
According to the CCFA's website, its retail partners include major chain stores and international brands such as Walmart, Starbucks, Carrefour, Burger King and others.
The standard
"More than a dozen egg producers are currently going through the on-site audit and verification process after the standard was released and we anticipate that the majority of them will be approved soon," according to Mutzu Huang, program manager at Lever China, in an interview with Food Ingredients First.
"Producers or food companies who do not pass the regular audit will not be entitled to use the 'cage-free' mark anymore. China's new cage-free standard is actually more rigorous and more comprehensive than that of some other countries, such as for example the US," states Huang.
It's important to note that while the cage-free standards have been set and said to cover multiple animal welfare and food safety parameters, a source to detail the standards has not been identified.
Trust
Transparency and communication concerning company commitments and cage-free production to build trust on the consumer level has been a major topic of discussion in the past year. Companies that have made pledges are expected by consumers to clearly report their progress towards meeting cage free commitments.
According to Han Taixin, vice president of egg producer Ovodan, "This group standard ensures transparency in the production of cage-free eggs and will help food companies communicate with consumers."