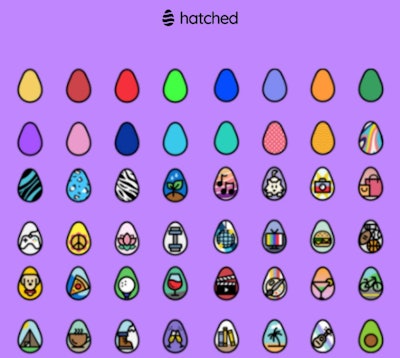 (Hatched | Facebook.com)
A new dating app called Hatched uses eggs in the place of profile pictures to encourage connections based on personality, not physical appearance.
After the dating app shows potential matches depicted as eggs, the only way to see what the person looks like is by answering personality-based questions. If the two users' answers match, the egg is "cracked" and the profile pictures are revealed.
The questions, developed by a team of therapists, are meant to address core values and interests, such as "Do you believe in living together before marriage?"
Hatched's website says the process creates a sense of blind-dating by urging users to leave behind surface-level conversations and develop deeper relationships. According to Statista, 57.44 million U.S. citizens used dating app services in 2022.
How it works
When a user clicks on a potential match, Hatched displays a question and multiple answers to choose from. If you pick the same option as the other person, the profile will hatch 25% of the person's profile picture. Both users are required to respond the same way four times until the profile is completed.
A user will know if they responded the same answer if the egg shakes and "cracks" open partially. If two users answer differently, the egg flashes red. If users who answer different want to try again with the same person, an "Egg On" option in the app allows users to answer a new question. However, the other match must also select the "Egg On" option to participate.
Answering questions correctly not only reveals the profile picture, but also gives users access to information about the other person such as age, biography, hobbies, occupation, prompts and "adjeggtives" or adjectives.
Additionally, the platform launched currency that can only be used in the app called "Yolks," which offers premium features such as the ability to "super hatch" or super-like a match.
Sadly, as far as I can tell, none of the questions feature actual eggs. What Hatched could consider doing is a partnership with an egg-based product, similar to what FarmersOnly.com did with the Just Crack an Egg breakfast line.