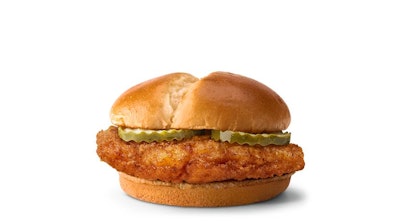 McDonald's
McDonald's
chose to release a
Chick-fil-A
chicken sandwich "knockoff" over alternative recipes following owner-operator pressure, former McDonald's chef, Mike Haracz, claimed on a now viral TikTok video.
"You might notice that the chicken sandwich [McDonald's] launched was in a foil pouch," Haracz said in the video. "It had butter, it had two pickles, it had a bunch of that MSG-type flavor, and it was a knock-off of Chick-fil-A. Do you think McDonald's can out Chick-fil-A, Chick-fil-A? No, they cannot."
Harasz served as manager of culinary innovation for McDonald's from 2015-19, according to his LinkedIn page. According to the TikTok video, he was a part of the McDonald's team that was focused on developing a new chicken sandwich.
The alternate McDonald's Chicken Sandwich
However, Harasz explained that the current recipe for the McDonald's chicken sandwich is not the one that won in consumer panels and focus groups.
"And when the panels would come back, my chicken sandwich with this sweet honey mustard sauce – this Golden Arch sauce, I working-title named it – would win in this scenario," he claimed.
"I have statistical significant data supporting that my chicken sandwich that I wanted to release -- and I wanted to go with -- won, but where are we at?"
Despite the higher ratings, a large group of owner-operators chose to go with an option that replicated the taste and flavor of the Chick-fil-A sandwich, Harasz alleged, calling them "bullish" about the "Chick-fil-A knockoff."
A long path to chicken sandwich success
McDonald's initially struggled to find its footing in the Chicken Sandwich wars. In July 2019, the board of the National Owners Association (NOA), a group of McDonald's franchise owners, called chicken sandwiches a top priority to help bring in more customers and better compete in the chicken sandwich wars, which boosted sales for the entire quick service restaurant chicken market.
McDonald's launched the Crispy Chicken Sandwich, now rebranded as the McCrispy Chicken Sandwich, in 2021. The McCrispy chicken sandwich lineup features a white meat chicken filet, crinkle cut pickles and a buttered potato roll.
The McCrispy Chicken Sandwich propelled McDonald's comp sales to grow 12.6% globally in the first quarter of 2023, the brand announced in an April 25 investor report.
"While there was no change to the core product, compelling creative and a new flavor offering supported demand and helped drive double-digit sales growth in the market," Ian Borden, CFO, McDonald's, explained during the call.
"By creating these fresh takes on our classic menu items, we continue to build affinity and have consistently gained affinity across our top markets in the growing chicken category across the last two years."
Harasz may call the McCrispy a Chick-fil-A knockoff, but it's clear that the chicken sandwich is succeeding with consumers.