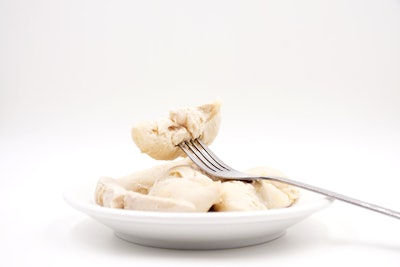 Yoyochow23 I Shutterstock.com
In 2023, cost-conscious chicken consumers looked for ways to stretch their dollars further. What will matter to consumers in 2024?
During the 2023 Chicken Marketing Summit, industry experts presented the latest data and insights to help the chicken industry and poultry buyers understand the ways consumers shop and how to leverage technology to reach them. Here are the highlights:
Elizabeth Doughman: If it feels like consumer trends are changing more rapidly, it's only because consumers are presented with more choices than ever before. These 12 chicken consumption trends promise to stick around in the long run.
Inflation and generational influence are expected to be two of the largest macroeconomic trends to affect chicken demand in 2023.
Ninety-five percent of consumers said that price per pound and overall price are more important or as important compared to a year ago when purchasing fresh chicken, according to research presented today at the 2023 Chicken Marketing Summit. Fresh chicken is the protein of choice because it delivers value, taste and contributes to a healthful lifestyle, even as consumers react to inflationary pressures.
Wayne-Sanderson Farms helped cost-conscious consumers save money, be more creative in their cooking and reduce food waste with the launch of its innovative Search By Ingredient tool. As a result of the marketing campaign, Wayne-Sanderson Farms was named the 2023 Chicken Marketer of the Year.
Elizabeth Doughman: Plant-based meat alternatives looked ready to conquer the world, but with sales falling, they will need to rethink their strategy for success.
Poultry consumers are faced with a choice in the grocery store. Some value price point over welfare claims. Others are willing to pay for what they perceive as more sustainable products if the price isn't too high.
The last reported case of highly pathogenic avian influenza (HPAI) in the U.S. was on April 18, 2023, more than three months ago. Is it time for the poultry industry to let down its guard?
Elizabeth Doughman: Chicken retail and foodservice companies are still dealing with the after-effects of COVID-19. Strong partnerships with suppliers could help alleviate some of these pain points.
Attend the 2024 Chicken Marketing Summit
The 2024 Chicken Marketing Summit will be held at the Renaissance Birmingham Ross Bridge Golf Resort & Spa in Birmingham, Alabama, on July 29-31, 2024.
Serving a unique cross section of the chicken supply chain, the Chicken Marketing Summit explores issues and trends in food marketing and consumer chicken consumption patterns and purchasing behavior.
Registration will open in early 2024.
For more information, visit: www.wattglobalmedia.com/chickenmarketingsummit/