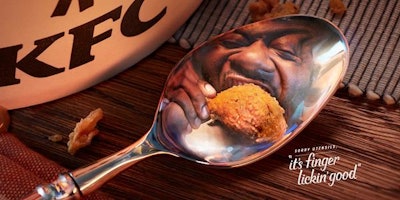 KFC Canada
KFC Canada is issuing a heartfelt apology to utensils everywhere in their new ad campaign.
Set to the instantly recognizable Air Supply's "All Out of Love," the campaign showcases people eating some of the brand's most popular food by hand and issues a heartfelt apology to the abandoned spoons and forks. "Sorry, Utensils" highlights that chicken nuggets, chicken sandwiches and even the recently revived Double Down Sandwich are always – quite literally – within reach.
"KFC has been about cooking and serving the world's best tasting fried chicken from day one, and our incredible taste continues to be what sets us apart around the world," said Katherine Bond-Debicki, KFC Canada's chief marketing officer, in a release. "You can't help but go all in and dig in, no utensils needed, with food so good you can't help but lick your fingers."
"It's Finger Lickin' Good is one of the most famous taglines in the world, which is exciting because it's so iconic but also a bit intimidating because there have been decades of great ads that have already used it." says Joel Holtby, co-founder of Courage, the ad agency behind the spot.
"With this campaign I hope we found a way to bring this very familiar tagline to life in a way that feels fresh and unexpected."
Bond-Debicki added: Whilst our taste leadership hasn't changed, we offer modern ways to satisfy your KFC craving – from our classic Chicken, to Sandwiches, and Wraps, and we wanted to showcase this throughout the creative."
Print, social and out of home ads are also planned as a part of the campaign.
As someone who spends a lot of time watching chicken-related ads for the Chicken Marketer of the Year Award, I find the ad clever (and now I have a series of 80s rock ballads stuck in my head). What about you?