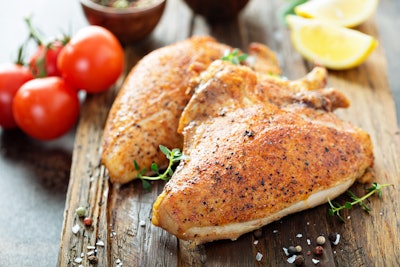 Por Elena Veselova I Shutterstock.com
If it feels like consumer trends are changing more rapidly, it's only because consumers are presented with more choices than ever before. These 12 chicken consumption trends promise to stick around in the long run.
"There are so many broad trends that are going around, I want to talk to you about what's going to stick," Kevin Ryan, CEO, Malachite Strategy and Research, explained at the 2023 Chicken Marketing Summit
When trends meet culture, that's how you know a trend will become sticky, he added.
1. AI revolution
From a consumer point of view, artificial intelligence (AI) will become the consumer gatekeeper, Ryan said. This means that, in the future, instead of selling to consumers, the chicken industry and other markets will sell to AI.
For example, with the growing popularity of Instacart, more and more consumers tend to put specific products on their shopping list, as opposed to going to the store and shopping for chicken. Chicken companies will now need to figure out to make sure their product is the one AI picks to put in consumer carts.
This is already in the works. Chipotle is already using AI and video to predict and help with inventory management.
2. Automation everywhere
Ryan also believes there will be more 'invisible' automation and AI in the front-of-house for foodservice. Consumers still want to see people working at a restaurant – but automation can help make restaurant workers lives easier, through generative AI in the drive thru. In the back of house, robotic fryers will automate the cooking process or streamline workflow.
3. Eco-concerns
Consumers want environmentally conscious products, but they are wary of marketing claims or greenwashing. They're also not necessarily willing to pay more for sustainably marked chicken.
But if price, value and all else is equal between two products, consumers will still always choose the one that they perceive is more environmentally friendly.
4. No more middle
Companies are much less interested in 'the middle.' Premium and value are major buzzwords with consumers, especially during these inflationary times.
Ryan uses the analogy of tepid tea. People either want hot tea or cold tea, but no one wants tepid tea.
5. Indulgent wellness
We are now entering a world where foods that are considered more indulgent, more rich are considered healthy by consumers. This is related to a new concept of modern health embraced by consumers – products that are indulgent give me a amental high, Ryan said.
6. Meat alternatives enter the flavor battle
The plant-based segment originally tried to target vegetarian and vegan consumers, but they're repositioned their market to become more appealing to meat consumers.
Instead of focusing on sustainability or health, the flavor of new products from Impossible Meat promise a meaty, indulgent flavor. Cultivated meat is doing the same – marketing itself as tasting better than chicken.
7. Evolved snacking
Snacking is becoming more popular, even replacing dinner in some instances as the recent Girl Dinner trend on TikTok showed.
Snacking delivers immediate flavor and gratification to consumers. You can see this now in the way that chicken sandwiches are drenched in flavor, even the bun. Food can't be boring anymore.
8. Restaurants 2.0
Post-pandemic, if a consumer eats out, it must be worth it. This has fueled the rise of eatertainment, including Chicken N Pickle.
Part of this is driven by the fact that the younger generation now drinks less alcohol. Instead of relying on drinking occasions to socialize, activities are filling the void.
The desire for meaningful food opportunities also drives the rise of global fast casual, like Bon Chon, or downhome comfort, like Chicken Salad Chick. Consumers are looking for experiences they can't get at home.
9. Foodservice/retail blur
During COVID-19, foodservice had to get creative to retain business, resulting in high end restaurants turning into product test kitchens. In addition, a growing number of foodservice brands launched retail products.
10. Celebrities come for chefs
The days of chefs as celebrities is over. Today, consumers are far more interested in celebrities as food brand owners.
Ryan highlighted the case of Mr. Beast, a highly popular youtuber, who moved into food by opening an even more popular virtual kitchen. Mr. Beast is a phenomenon with teens and the younger generations.
11. New third place
With the rise of mobile orders, consumers are less likely to spend their time at coffee shops. Taking their place is convenience stores.
This could be linked to the rise of the electric cars. Convenience stores like 7-Eleven invested heavily in electric car charges. It takes approximately 30 minutes to charge an electric car and consumers are using this time to eat in the foodservice brands now present at convenience stores.
12. Pet food upgrade
Consumers are spending more than ever on their pets and retail brands are noticing. Ryan predicts that human-grade pet food is going to becoming a popular trend in future years.