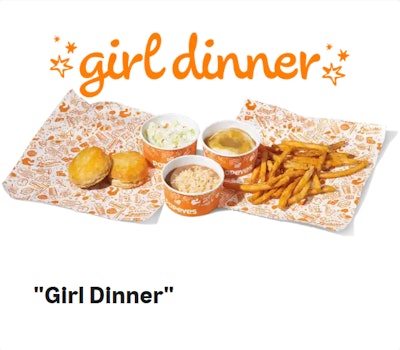 Courtesy Popeyes.com
Quick service restaurant (QSR) Popeyes Louisiana Kitchen added a version of its own "girl dinner" to select menus, however, it is getting mixed reviews from consumers.
What is girl dinner?
"Girl dinner" is a viral social media trend that refers to a meal made of up of multiple small side dishes. Often, they look like a charcuterie board, but Popeyes created its girl dinner out its of already existing side items.
Popeyes's girl dinner offers customers a selection: macaroni and cheese, fries, mashed potatoes, red beans and rice, coleslaw and biscuits. However, the new menu is no different than Popeyes' side item menu. Even the packaging and portion sizes are identical to the original side menu.
After the debut of the new menu section on TikTok, the offering sparked controversy among customers.
The marketing tactic is being praised by many for keeping up with the trends, but others see it for what it is: an advertising ploy to sell more product under a fancy name. In social media posts, hundreds of people are asking why Popeyes didn't just rename their side item menu because it is identical to the girl dinner menu.
Others have called out the chain –a restaurant known for its chicken- for not including chicken on its girl dinner menu. One Twitter user said, "that's not 'girl dinner' that's 'your family wanted Popeyes and you're the only vegetarian' dinner." Others are saying the chain should have at least added chicken tenders to the menu.
Personally, I have no reason to go to Popeyes if I'm not getting their chicken.
Does Popeyes' social media personality fuel sales?
Whether people agree on Popeyes' girl dinner menu, it created more social media buzz around the brand, which I'm sure is exactly what it was aiming for.
In 2019, Popeyes launched their chicken sandwich, but interest in the new menu item gained traction when the brand began the infamous "Y'all good?" Twitter feud with rival chicken company, Chick-fil-A.
While talking about the QSR's social media presence during 2020's Chicken Marketing Summit webinar, Kelley Bailie Fechner, Datassential Director of Customer Solutions, explained how the chain's marketing and brand personality fueled interest in its chicken sandwich, which eventually increased the brand's market share.
"It speaks to the personality that Popeyes has as a brand – especially on social media. Not only are they watching what their competitors are doing, you'll notice on Twitter and Instagram that Popeyes responds to every individual comment that they get. That's an interesting personality that Popeyes has cultivated on social media," said Fechner.
Attend the 2023 Chicken Marketing Summit
The 2023 Chicken Marketing Summit will be held at Hotel Effie Sandestin in Miramar Beach, Florida on Monday, July 31 – Wednesday, August 2, 2023. Serving a unique cross section of the chicken supply chain, Chicken Marketing Summit explores issues and trends in food marketing and consumer chicken consumption patterns and purchasing behavior.
For more information and to attend, visit: wattglobalmedia.com/chickenmarketingsummit/.