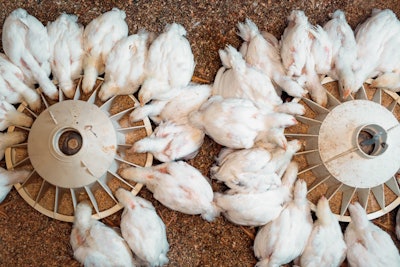 davit85 - stock.adobe.com
The domestic poultry industry hoped to never again endure anything like the 2015 highly pathogenic avian influenza (HPAI) outbreak, but seven years later, its in a similar situation.
Disparate impacts
At the beginning of May 2022, total cumulative losses to the 2022 HPAI outbreak stood at nearly 36.5 million commercial chickens and turkeys. Layers accounted for about 75% of total losses.
Even though broiler inventory and production losses during the current HPAI outbreak are substantially higher than 2014-2015, the overall supply impact remains muted. The broiler industry typically harvests and processes more than 160 million birds each week, meaning the cumulative loss to HPAI accounts for less than 0.2% of all broilers slaughtered since the first confirmed case in in a commercial flock on February 12, 2022.
It's a much different story for turkey. In the 11 weeks following the first confirmed case of HPAI on a commercial turkey operation, weekly turkey slaughter averaged nearly 3.9 million according to U.S. Department of Agriculture estimates. Approximately 125% of a typical week's turkey slaughter, and more than 11% of cumulative annual slaughter, were lost to HPAI.
Price reaction
Turkey breast prices increased sharply in response to the sudden loss of so much fresh output. Orders are unfilled and anxiety is building about future supply levels.
Fresh tom breast meat approached $6 per pound at press time. Given how sharply daily quotes are advancing, record price levels from seven years ago are almost certain to fall.
Domestic per capita availability of turkey meat is at a 35-year low, adding fuel to the inflationary fire. While production losses in the broiler segment are relatively insignificant, boneless skinless chicken breast prices are at a modern record of nearly $3.50 per pound and still climbing.
The unfolding supply squeeze in the turkey segment led some deli meat buyers to substitute with additional chicken breast meat. Broiler supply impacts from HPAI are miniscule, but demand-side forces are getting a huge, albeit indirect, boost from the upheaval in turkey.
Bad timing
There is never a good time for a major disease outbreak, but this current episode of HPAI seems especially problematic given it comes as food and overall price inflation is reaching its highest level in decades. Consumers will get even more sticker shock at grocery store restaurants thanks to HPAI.
Many producers are facing a costly situation of depopulating flocks and then remaining idle without birds for longer than normal. The only positive is that, if 2015 is any sort of guide, the outbreak should subside by early summer and allow recovery to begin.