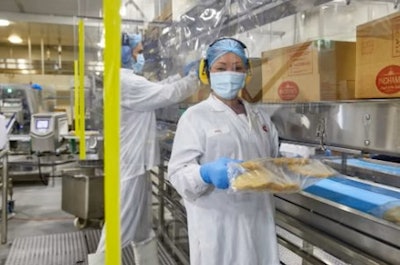 Source: Courtesy Ingham's
Workers at two Ingham's poultry facilities in Australia have gone on strike, threatening supplies of poultry meat on the continent.
The strike action comes amid a pay dispute, according to a report on ABC's Australian news outlet. Workers are demanding a 6% pay increase annually over the next three years, which has not been agreed to by Ingham's management. Negotiations have taken place since the beginning of the year.
According to the report, the firm's hourly average wage is currently AUD25.00 (US$16.24). Workers are asking for an increase of around AUD1.50.
The report states hundreds of members of the United Workers Union (UWU) at two Ingham's sites — the processing plant at Bolivar in Adelaide's north, and at Osborne Park in suburban Perth — have walked off the job for at least 24 hours.
Tim Kennedy, the UWU's national secretary, said in the report that the strike could continue through this week if no agreement is reached.
Another report from ABC states Ingham's has offered an 11% pay increase and that the company and UWU started mediation talks Monday. Ingham's has presented a new agreement to the UWU, which it is considering.
If no agreement is reached, that could soon mean a shortage of fresh chicken in Australia, according to News.com.
As the country's largest poultry meat producer, Ingham's supplies retailers such as Woolworths, Coles and Aldi, as well as fast-food giants KFC, McDonald's and Subway.
Within a short time, the strike will also begin to impact the wider supply chain, including the firm's chicken farmers, said a top UWU official.
More on Ingham's
With annual slaughterings of 230 million birds, Ingham's Enterprises Pty Ltd is the largest poultry company in Oceania, according to WATTPoultry.com's Top Poultry Companies survey.
In the company's annual results for the 2023 fiscal year, Ingham's reported an overall drop in the volume of its sales in Australia. However, profit was higher than in the previous 12 months. For Earnings before Interest, Taxes, Depreciation, and Amortization (EBITDA), the year-on-year increase was 13% at almost AUD419 million.
Earlier this year, Ingham's announced its intention to acquire a hatchery business in New Zealand.
Within the past few days, it has announced the purchase of a new poultry farm in New South Wales, Australia.