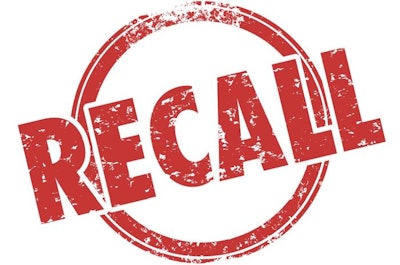 U.K. turkey company Bernard Matthews is recalling Turkey Dinosaur products because they may contain small pieces of metal.
According to a notice from the U.K. Food Standards Agency (FSA), the affected products come in 450-gram packages containing nine of the dinosaur-shaped nuggets, and are labeled with the batch codes L19QGG3, L19QGG4, L19QHG3, L19QHG4. The labels also state the turkey products are best before the end of November 2020.
The FSA said in its notice that point-of-sale notices will be displayed in all retail stores that are selling this product. These notices explain to customers why the product is being recalled and tell them what to do if they have bought the product.
Consumers who purchased the affected products are encouraged not to eat them and instead return them to the place of purchase for a full refund.
"The safety of everyone who enjoys our turkey products is very important to us. Once alerted by our customers to an object found in our turkey dinosaurs, we launched an urgent investigation and took precautionary action. We are confident the foreign object was isolated to one batch, but as a responsible food producer, we felt it necessary to inform the FSA and fully support the product recall. Investigations continue," the company stated on its website.
Bernard Matthews, according to the WATTAgNet Top Poultry Companies Database, is the largest turkey producer in the U.K., slaughtering about 7 million turkeys annually.