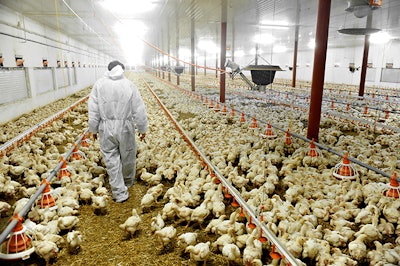 roibu | BigStock.com
A new era for Salmonella sampling, regulation and control in poultry is beginning, putting greater pressure on preharvest approaches to reduce the pathogen.
At a panel at the 2022 Poultry Tech Summit, new methods to better control, test and mitigate Salmonella before the processing plant were discussed. The panel included:
Dr. Douglas Fulnechek, Zoetis Inc.'s senior public health poultry veterinarian
Dr. Nikki Shariat, an a

ssistant professor

at the University of Georgia's College of Veterinary Medicine
Jeffrey Niedermeyer,

Director of Food Safety

at Butterball .
"Salmonella does not originate in the processing plant," Fulnechek said. "The goal is to prevent the broiler chick or turkey poult from becoming colonized. This is a big challenge because production methods favor the bacteria."
The industry needs to recognize pre-harvest interventions are required to control Salmonella. Food safety begins on the farm level, the panel of experts stressed.
Regulatory impact
The U.S. Department of Agriculture (USDA) doesn't have regulatory authority at the farm. This means producers must voluntarily adopt pre-harvest interventions to help manage Salmonella in poultry products. However, the USDA Food Safety and Inspection Service's (FSIS) proposed framework to reduce Salmonella, announced on October 14, 2022, indirectly expands the department's regulatory control.
If implemented, the new regulations would require poultry companies to test incoming flocks for Salmonella before entering the processing plant, enhance its establishment process control monitoring and FSIS Verification and develop an enforceable final product standard.
"The FSIS released a guideline in June 2021 that offered guidance on interventions to control Salmonella in raw poultry," Fulnechek said. "It includes sections on vaccinating breeder flocks, applying a modified-live Salmonella vaccine spray at hatch, lethality steps at the feed mill, optimizing feed withdrawal and strengthening biosecurity in broiler houses."
"I believe the FSIS is looking for the industry to adopt live prerequisite programs and plant programs. It is likely that this dual intervention idea is going to contribute to a producer's status in the industry. But, if a company only does one of these, they will be on a secondary, less prestigious level. Some companies may not adopt anything, and they would be on the lowest level."
On-farm testing
For now, the industry needs to focus on what interventions it can use to address proposed regulations.
One practice could be to process birds with the lowest Salmonella risk earlier in the work shift to prevent contaminating the following flocks, which is a practice widely implemented in Europe. However, recent studies show Salmonella incidence on poultry farms typically ranges from 83-90%, making this tactic difficult.
"Europe does not use any antimicrobials during processing, so a mandatory Salmonella prescreening of broiler flocks on the farm is done, specifically for enteritidis and typhimurium," Shariat said. "If flocks are found positive, they are depopulated. In some countries in the European Union, they are allowed to divert the product elsewhere."
Research performed by Shariat and her team to identify Salmonella serotypes across four different complexes found in one of the complexes, the Salmonella profile varied in different farms. On other farms, fewer variations were seen.
"In this complex, each farm had a different Salmonella profile," she said. "Fifty-seven percent of the samples contained multiple serovars, and the farm itself was 80% positive for Salmonella."
From the research, Shariat created a risk score of 0-4 for each farm, which identified Salmonella type and prevalence. This risk evaluation is an example of what a producer could do determine which flocks should be run in the processing plant first.
Assessing Salmonella serovar profiles and quantity at pre-harvest by poultry house could provide information helping reduce Salmonella in the processing plant and ensure compliance to the newly proposed regulations.
Some grey areas the industry will need to address include: when and where the sample should be collected; what indicates a high level of Salmonella and other performance indicators producers can use to evaluate their flocks, Shariat said.
Mitigation strategies
Biomapping and data acquisition are crucial components to understanding a process on a micro-level and can impact what Salmonella interventions a producer uses and where they use them.
Collecting pre- and post-harvest data is important because it can provide an indication of what serotypes are present in your farms and what could come into your processing plants, Niedermeyer said. However, additional data, such as serotype and quantitative load information, acquired from the plant can also be valuable when investigating spikes in Salmonella or potential cross contamination issues.
According to Niedermeyer, Butterball uses scheduling and diversion tactics if Salmonella is detected in a flock before processing. For example, if Salmonella is detected, birds can be diverted to a product going through cooking or high-pressure processing (HPP).
"A validation study that we did to reduce Salmonella involved two different treatment times for HPP. We found that HPP did reduce the Salmonella load," Niedermeyer said.
However, HPP can cause potential organoleptic property changes and limitation in packaging options. Rapid freezing and frozen storage can significantly reduce the Salmonella load in poultry, as well. Phage application as a biocontrol method is becoming more common and can be used as an organism specific antimicrobial in poultry.
"Before birds are brought into the plant, managing and auditing the sanitation process is crucial to maintaining process control," Niedermeyer said.
Additionally, hand scrubbing, sanitizer dwell time, titration of chemicals and water temperature are all parts of the sanitation process that should be monitored often due to their impact on Salmonella prevalence on processing equipment.
Attend the 2023 Poultry Tech Summit
Join an exclusive international gathering of industry-changing innovators, researchers, entrepreneurs, technology experts, investors and leading poultry producers at the 2023 edition of Poultry Tech Summit on November 6-8 at the Hilton Atlanta Airport in Atlanta, Georgia.
Attendees can expect the same groundbreaking innovation and insightful presentations that made the previous events well-attended with deep dialogue on new prospective solutions and next-generation technologies. Poultry Tech Summit focuses on the transition of innovative technologies into commercial applications to advance the poultry industry.
Registration for this event will open in the spring of 2023.