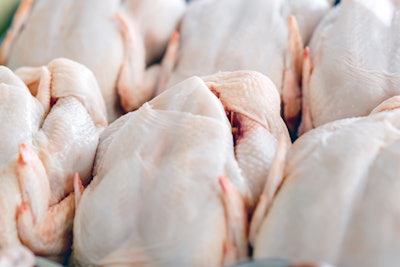 nd3000 | BigStock.com
Salmonella is the leading cause of foodborne illness in the U.S., and poultry products currently comprise the highest percentage of foodborne outbreaks, compared to other food groups, according to data from the Center for Disease Control (CDC).
However, that information alone does not tell the whole story, explained Dr. Mindy Brashears, Texas Tech University Associate Vice President for Research, at the at the Delmarva Poultry Industry (DPI) National Meeting on Poultry Health, Processing and Live Production.
According to Brashears, one of the reasons poultry remains the main culprit is due to how the CDC measures public health status, one being through attribution data.
Attribution data
According to the CDC's website, foodborne illness data sourced by attribution is the process of estimating the most common food categories responsible for illnesses caused by pathogens such as Salmonella. The CDC collects this data electronically from state, local and territorial public health agencies.
Specifically in poultry, the CDC has seen a decline in confirmed Salmonella infections in the last few years. Previously, when working with the U.S. Department of Agriculture (USDA), Brashears explained that in some foodborne illness outbreaks attributed to Salmonella in poultry involving hundreds of people, only five isolates, or confirmed cases, were reported.
Brashears said that often, if consumers are being told they are being tested for Salmonella at the doctor, they automatically think back to the last poultry product they ate and attribute the sickness to that. Additionally, attribution data doesn't account for cross contamination from something else.
"They are not thinking about pork, fruits or vegetables. Over the years, chicken and Salmonella are synonymous so that bias is the data," she said. "Making that direct connection back to the product is very difficult."
Regulatory data and the industry's role
According to Brashears, the poultry industry is driven to focus on all serotypes of Salmonella and not the most pathogenic serotypes. Reducing the less pathogenic serotypes could create a space for more pathogenic strains and worsen the problem, she explained.
Additionally, despite the USDA's Food Safety and Inspection System's (FSIS) sampling data showing reductions in Salmonella contamination in poultry products, FSIS leadership believes that the current approach to Salmonella has not led to a demonstrable reduction in Salmonella infections.
Brashears says this is because there is an inconsistency in stating that reducing Salmonella in poultry hasn't resulted in a reduction in human illnesses and then implementing strategies to reduce Salmonella in poultry.
"If you took out all the Salmonella illnesses due to poultry, you're still not going to reduce by 25%," she said.
Rather, Brashears recommends that the industry focuses on the most pathogenic Salmonella serotypes, not Salmonella as a whole.
Brashears added that the USDA FSIS is not a research agency and are only here to enforce policies. "The industry can obtain scientific data faster than FSIS and should lead the way."