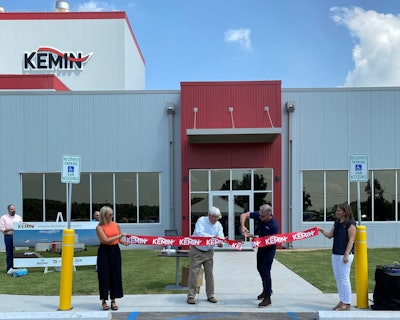 Courtesy Kemin
Kemin Industries has opened a new manufacturing facility in Verona, Missouri, to produce its Proteus line of clean-label functional proteins that are used to increase yield and enhance the quality of meat and poultry products within the food industry.
Kemin broke ground on the new building in November 2021, and on August 23, the company hosted a ribbon-cutting ceremony to officially open the 38,000-square-foot facility. The operation is a US$70 million investment that employs nearly 30 full-time workers in the Verona community.
The facility, which will run under FSSC 22000 Certification and completed its first run under United States Department of Agriculture (USDA) inspection on July 25, will manufacture Kemin Food Technologies – North America's patented Proteus line of clean-label, functional protein ingredients for a variety of meat and poultry applications. The Proteus portfolio of muscle-based protein ingredients can help food processors naturally retain moisture typically lost in processing, which translates to processing efficiencies with improved quality.
The state-of-the-art Proteus production plant will have an initial capacity to produce enough functional protein to treat more than a billion pounds of meat, poultry and protein-based applications.
"Since acquiring Proteus in April 2021, we've been eager to open this site and serve customers, who continue to demand sustainably sourced, technologically advanced solutions," said Marc Scantlin, president, Kemin Food Technologies – North America. "Opening our first-ever Proteus dry production plant provides the opportunity to partner with more meat and poultry manufacturers, positively impacting the quality of our global food supply."
Prior to construction of its Food Technologies site, Kemin established a presence in Southwest Missouri in 2011, with a manufacturing location for Kemin Nutrisurance, the company's pet food and rendering technologies business unit. Today, Kemin has three locations in Missouri: Kemin Nutrisurance facilities in Verona and Sarcoxie and the new Proteus production plant.
"We've found a great pipeline of talent in Verona and the surrounding area that has successfully grown our manufacturing capabilities for our pet food business, and we believe this community will offer the same support for our Proteus production plant to meet the high interest of our customers," said Dr. Chris Nelson, president and CEO, Kemin Industries. "I've been impressed with all our team members in Southwest Missouri, and I know even more potential employees are here to help us bring better meals to families around the world."
Kemin anticipates yield-enhancing Proteus solutions will further expand the global reach of its Food Technologies business, with plans for additional production capacity in Latin America beginning in 2024.