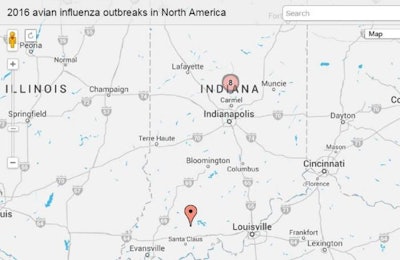 Avian influenza has returned in poultry flocks in 2016 as birds migrate across North America. In light of these most-recent avian flu outbreaks, it is necessary that members of the industry be proactive and keep up-to-date to ensure the health of their birds and safety of their poultry products.
To help poultry growers and producers monitor these outbreaks of avian influenza, WATTAgNet has created an interactive map tracking cases confirmed by the Animal and Plant Health Inspection Service (APHIS) in North America in 2016: https://batchgeo.com/map/2016-avian-influenza-outbreaks. Clicking on each marker on the map displays key information for the bird flu incident with a link to learn even more about that specific case. Filter the map view by a variety of criteria including date confirmed, flock size, type of operation and more.
The 2016 avian influenza map is updated as soon as possible once a new confirmed case is reported.
Since being confirmed in the state of Washington in December 2014, avian influenza cases have spread throughout the Pacific Northwest into Canada, as well as into the Midwestern and Southern states. To track the locations of these prior cases, visit our 2015 avian influenza map. The map allows users to filter by region, bird species, type of operation affected, avian influenza strain and date confirmed.