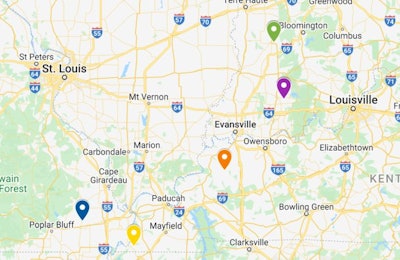 Avian influenza has returned in poultry flocks in 2022 as birds migrate across North America. In light of these most-recent avian flu outbreaks, it is necessary that members of the industry be proactive and keep up-to-date to ensure the health of their birds and safety of their poultry products.
To help poultry growers and producers monitor these outbreaks of avian influenza, WATTPoultry.com has created an interactive map tracking cases confirmed by the Animal and Plant Health Inspection Service (APHIS) in North America in 2022 in commercial poultry flocks:
Clicking on each marker on the map displays key information for the bird flu incident with a link to learn even more about that specific case. You can filter the map view by a variety of criteria including date confirmed, flock size, type of operation and more. Information included in the map was provided by APHIS, the World Organization for Animal Health (OIE), and state agriculture agencies where cases have been confirmed.
The 2022 avian influenza map is updated as soon as possible once a new confirmed case is reported.
The map only includes cases of highly pathogenic avian influenza (HPAI) in commercial poultry. Detections of HPAI in wild birds or backyard flocks will not be included in this map, as such cases, in accordance with OIE standards, should not result in any trade restrictions.