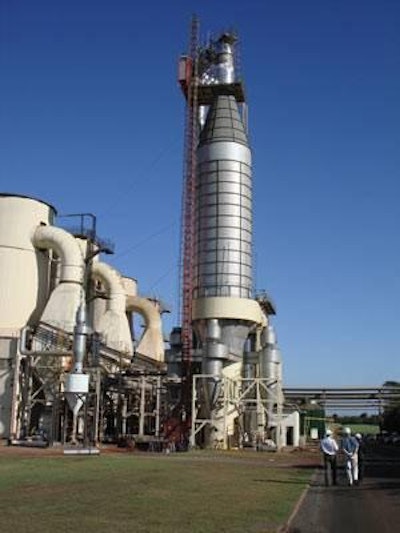 Spray drying is a fairly common process for drying liquid feed. Utilizing a hot gas, such as air or nitrogen gas, the process is generally an efficient one-step process in manufacturing feed ingredients.
When Alltech recently expanded its yeast facility in São Pedro, Brazil, it incorporated a new spray dryer in order to more efficiently meet its production goals. The facility is currently the world's largest yeast-producing plant with a capacity to produce more than 100,000 tons of products per year. The additional new state-of-the-art spray dryer is an integral part of the facility expansion. "Demand is the largest component of the decision to move ahead with this expansion," explains Mark Lyons, Alltech's director of global projects. "But we also sought to enhance our production, not only in the way of volume but also technological advances to better harvest the yeast cell components."
New technology
Lyons explains that, "This dryer was built using proprietary technology that will lead to the expansion of Alltech's product range and product capabilities. It also enables Alltech to contribute further to local development within the area."
He says the new dryer was specifically designed as a high volume dryer to dry large quantities of a very unique product while enhancing and maintaining its functional nutrients. The specific technology is Alltech-designed and proprietary.
"This technology was specifically designed by Alltech, using the latest engineering advances to produce a one-of-a-kind large volume spray dryer," he explains. Lyons characterizes the new spray dryer as being of critical importance to meeting the escalating demand for its products.
One of the products manufactured at the expanded facility is a rich source of highly digestible amino acids with high nucleotide content.
Alltech believes that nucleotides in the product hold a specific function in the development of skeletal and cardiac muscle, hepatic and intestinal tissue, and the development and maintenance of the immune system.
Atomizing process
While Alltech's technology is proprietary and processing specifics used by other manufacturers vary, the general concept of spray drying involves pumping liquid feed through an Atomizing device that produces fine droplets sprayed into the main drying chamber. The atomizers can be of various designs, depending on the application of the spray drying required.
Conversion of the feed into fine droplets can be done by either pumping the feed under high pressure through an orifice to produce coarse droplets and large granular particles in the end product, or by spraying through a high speed rotating perforated disc which will produce fine droplets and fine powder particles in a finished product.
Utilizing a spray dryer can be an ideal choice as it offers many defined end product characteristics.