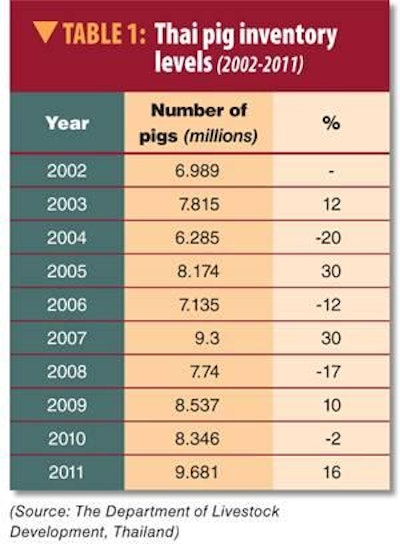 The Thai pig industry is dealing with outbreaks of Porcine Epidemic Diarrhea and Porcine Reproductive and Respiratory Syndrome, PRRS, as well as recent floods in Bangkok and surrounding areas. While the flood waters have receded, the aftermath of pig diseases are decimating Thai pig herds.

Porcine Epidemic Diarrhea outbreaks
While Porcine Epidemic Diarrhea is not new to Thailand, the cause of the latest outbreak is unclear, according to Dr Kitcha Urairong, a lecturer at the faculty of veterinary medicine at Thailand's Kasetsart University.

The disease spread rapidly across the country in 1997 and 1998, when it was introduced into the region through imports of breeding pigs from Europe, especially Belgium, the Netherlands and the UK.

However, Dr Urairong commented the most recent occurrence, first spotted in 2007, was unlikely to be linked to the import of breeding pigs, as there had been no shipments into the country within the previous six months.

The renewed outbreak, he suggested, could be related to a couple of factors. Firstly, there was an unusual drop in temperature in Thailand when it was first diagnosed, which was during the winter. The temperature drop resulted in ideal conditions for the spread of the virus via dogs, cats, flies and vehicles.

Secondly, he said, it could be the immunity drop in the pig herd. This could be caused by circulation of other viruses such as Porcine Reproductive and Respiratory Syndrome Virus, PRRSV, and Porcine Circovirus Type 2, PCV2, together with immunosuppression.

The immune suppression was triggered by mycotoxin contamination in feed due to the use of low-quality raw materials, which were very expensive at that time. Some farms had resorted to using substandard pre-mixes, or had even completely removed pre-mixes out of the rations to save costs.

Speaking at the 37th Thailand International Veterinary Science Conference, Dr Urairong said Porcine Epidemic Diarrhea was causing mass mortality in newborn piglets in Thailand and throughout Asia.

Although vaccines against Porcine Epidemic Diarrhea were commercially available, they were somewhat ineffective, especially among farms that had never been hit by the disease, he claimed.

Combating PRRS strains
Following his experience in dealing with Porcine Epidemic Diarrhea in pig herds in Thailand since 2007, he said pig farmers appeared to be gaining more understanding of the disease now and they were more able to prevent it through the various measures that he and his colleagues at the university were advocating.

"Improved management of farrowing sows to ensure that they produce sufficient colostrum is a critical factor in preventing newborn pigs contracting the disease, as maternal antibodies from colostrum are effective in shielding the progeny from it," said Dr Urairong.

Along with this, he added, improving biosecurity and water management in conjunction with feeding pigs with diets free from mycotoxins were the keys to controlling Porcine Epidemic Diarrhea successfully.

Meanwhile, it is understood that the Thai pig industry is also battling to combat PRRS, which is seen by many as an even bigger disease threat than Porcine Epidemic Diarrhea.

The PRRS virus (US strain) has been present in Thailand for a long time, but its impact was not really felt until the highly pathogenic PRRSV was detected in the country in the middle of 2010.

Highly Pathogenic PRRS
Highly Pathogenic PRRS was first seen in the northeast region of the country and latterly it has also been spotted in the north and central areas.

The disease is not just found in backyard pig farms, but also in high biosecurity farms that are located in densely congested pig production areas, such as in the central provinces of Nakhon Pathom and Ratchaburi, which supply pigs to Bangkok and peripheral areas.

Dr Winai Thongmak, Thai PRRS expert from Live Informatics Co., explained that PRRS in Thailand was present at all stages of pig production, from sows to nursery pigs through to growers and finishers. In sows, he said, the disease was leading to abortion levels of between 5 percent and 25 percent and mortality rates from 6 percent to12 percent.

Mortality rates of 10 percent to 40 percent had been recorded in nursery pigs. Dr Thongmak pointed out that in 10 to 14-week-old pigs, infection resulted in slower growth rates along with higher treatment costs and as a consequence finisher pigs lacked uniformity due to uneven growth rates.

Preventing pig diseases
Pig producers need to prevent the entry of the virus into their swine herds to control the disease, he commented. Carriers of the virus could include replacement gilts, semen, boots, mosquitoes and visitors. The use of a modified live vaccine was also advocated to control the disease.

Thanks to better pig disease management and control the effects of PRRSV have been declining since late 2011, continuing through to early 2012. In 2011, Thailand had a total of 9,681,744 pigs, of which 63 percent were finisher pigs (6,092,239), 30 percent breeding pigs (2,877,592) and 7 percent native pigs (711,943).