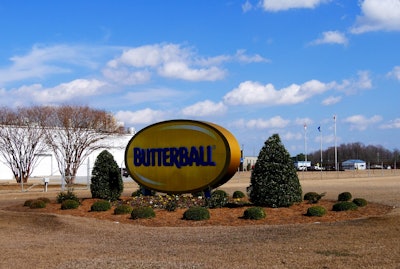 Butterball
Darling Ingredients and Butterball have entered into a letter of intent to explore the possibility of building a new poultry rendering plant on land adjacent to Butterball's turkey plant in Mount Olive, North Carolina.
The potential rendering facility is anticipated to have the capacity to process about 18 million pounds of material on a weekly basis and have three processing lines, according to a press release.
"Butterball has been a proud, long-time member of the Mount Olive community, providing positive economic impacts, including jobs, for many in the area," said Jay Jandrain, president and CEO of Butterball, LLC. "We're excited to explore the potential environmental and safety benefits of an improved operating footprint at Mount Olive."
If all necessary permits are approved and the definitive agreements are executed, construction on this new facility would likely begin in early 2024 and be completed the following year.
"Darling Ingredients is committed to supporting its customers and agricultural growth in North Carolina," said Randall C. Stuewe, Darling Ingredients chairman and CEO. "A new Mount Olive rendering facility strengthens rendering reliability, increases capacity and provides a critical service that transforms this material into invaluable ingredients and feedstock for renewable diesel and sustainable aviation fuel."
North Carolina Agriculture Commissioner Steve Troxler said the rendering plant plans was "great news for North Carolina's agriculture industry."
"As we continue to grow, so does the need for facilities like this one. Increasing our rendering capacity in the state provides us the ability to turn an otherwise unusable animal material into a useable product. This is an essential service for our agriculture community and greatly needed capacity to help meet demand. I wish Butterball and Darling Ingredients success in this endeavor," Troxler said.
Butterball, according to the WATTPoultry.com Top Poultry Companies Database, is the largest turkey producer in the United States, having slaughtered an estimated 1 billion pounds of live turkeys in 2022.