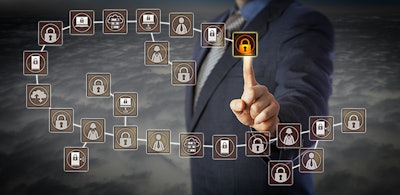 Data is the new gold, as important as any other asset in the poultry industry. Emerging digital technologies can leverage poultry data to help predict bird weight and feed conversion, monitor welfare and improve overall sustainability.
"The challenge is that there's research that says that by 2022, 50% of companies will lack sufficient artificial intelligence (AI) and data literacy," explained Simon Cohen, director of sales, MTech Systems.
"Just to give you an idea of the importance of precision farming, there's estimates utilizing smart farming practices can generate $2.3 trillion in cost savings. Out of that $2.3 trillion, $250 billion will come from savings utilizing AI and data analytics."
"We are now moving away from computers used in manufacturing to simply collect data into more of a predictive and prescriptive approach through the use of tools such as artificial intelligence," Vernon Smith, founder and CEO, CAT Squared, added.
During the fifth webinar in the Poultry Tech Webinar Series. Cohen and Smith previewed five digital technologies set to simplify the data analysis process for the poultry industry.
1. Sensors
The first step of any data journey begins with sensors. Sensors connect and collect, as well as securely transmit, poultry data. This data can be audio, visual or text-based to track everything from welfare to feed consumption to environmental monitoring and more.
For example, innovations in feed bin monitoring technologies include temperature probes, load cells, lasers and sound detection.
2. Internet of Things (IoT)
The Internet of Things (IoT) can offer several benefits to the poultry industry. The digital technology can help provide remote access in real-time to feed inventory, bird weight, exact population and water consumption.
This can result in accurate predictive models on the time to empty on feed bins, the time to target weight for birds and bird weight predictive models.
3. Artificial intelligence
Recent advances in data, software and hardware and cloud computing are fueling the popularity of AI in the poultry industry. Previously, decisions were made retroactively, AI instead serves as a predictive model to help drive data-driven decision making.
For poultry production, AI drives optical technology, which can help provide welfare analytics about flocks in a house. In manufacturing, AI can help with overall equipment effectiveness (OEE) reporting, predictive maintenance and product recognition.
4. Cloud technology
Cloud technologies allows data to be stored virtually on the internet, rather than requiring organizations to have enough data storage. An added benefit of cloud storage is that it is easy to share with partners and all stakeholders throughout the poultry supply chain to drive analytics and data-supported decision making.
5. Digitized supply chain
Traceability now starts on the farm. This is typically done through blockchain, which can track a product's journey through the entire supply chain through a distributed ledger.
Beyond the obvious benefits of tracking recalls after foodborne disease, a digitized supply chain can also be used to give the consumer greater transparency into food production. A scannable barcode or RFID labels can educate potential shoppers about how their poultry products are raised and fed.
What's coming next
For more on the technologies set to advance the poultry industry, join industry-changing innovators, researchers, entrepreneurs, technology experts, investors and leading poultry producers at the Poultry Tech Webinar Series, scheduled for November 2, 4, 10, 11, 17, 30 and December 2.
During the webinar series, industry experts will preview what's coming next – from prospective solutions to developing technology – for the poultry industry.
This webinar series is proudly sponsored by: Arm & Hammer, Aviagen, Baader, Boehringer Ingelheim, Cargill, Ceva, Chore-Time, Cobb, Evonik, Marel, Phibro Animal Health, Staubli and Zoetis.
Visit our website for more details on the webinar series, topics and speakers.
Register for free today and join us for a glimpse at the future of the poultry industry.