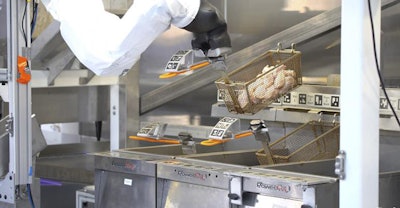 Fast casual chicken wing brand Wing Zone will install the autonomous robot chef called Flippy 2 into all future restaurant brands.
Flippy Wings is a robotic chicken wing fryer uses artificial intelligence (AI) and image recognition to identify the food items that need to be cooked once an order is placed. The autonomous robot chef can then pick up the food, cook it and place the food into a hot holding area.
This can free up back-of-house staff to focus on the preparation of other items and improving worker safety through the elimination of hot touch points and decreased oil spillage.
In addition to benefitting workers, Flippy Wings, created by Miso Robotics, could increase production speeds by 10-20%, the company said.
"Miso Robotics' vision and mission have always been to create the commercial kitchen of the future by applying AI, automation and robotics to address the challenges plaguing the industry – the need for innovation in a restaurant's back-of-house, which Wing Zone recognizes. With our knowledge and technology, we're working to establish Wing Zone as the franchise of the future to support the brand's overall corporate innovation efforts," said Jake Brewer, Chief Strategy Officer at Miso Robotics.
"We are extremely thrilled to announce this cutting-edge partnership with Wing Zone. It goes to show how much the industry has progressed, and we're excited to see where this partnership will take us!"
The agreement is the first-of-its-kind statement of intent to embrace back-of-house automation, according to the press release. Earlier this year, Wing Zone launched a partnership with Wavemaker Labs, the technology incubator behind Flippy Wings, to open 20 units focused on end-to-end automation in chicken foodservice in Southern California.
Attend the 2022 Chicken Marketing Summit
Many of the features and technologies found in future restaurants are already being tested, including autonomous vehicles, drones, virtual chefs, virtual/ghost kitchens, automated ordering, metaverse dining rooms, augmented reality food prep and robotic servers.
Kelley Bailie Fechner, director, customer solutions, Datassential will highlight these technologies and other trends ready to shape the future of chicken foodservice in 2022 and beyond at the 2022 Chicken Marketing Summit.
The 2022 Chicken Marketing Summit will be held at Chateau Elan in Braselton, Georgia on July 25-27. Serving a unique cross section of the chicken supply chain, the Chicken Marketing Summit explores issues and trends in food marketing and consumer chicken consumption patterns and purchasing behavior.
For more information and to attend, visit: www.wattglobalmedia.com/chickenmarketingsummit/.