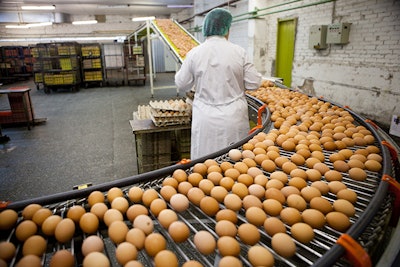 Despite nearly a century of intensive layer production in the U.S., accurate and consistent egg counting methods remain elusive.
"We had received a lot of complaints from various farms about inaccurate counting – anywhere from 5% off on the number of eggs to upwards of 20%," Evan Anderson, CAD designer, AgriNerds, said.
"Any miscounted egg is a detriment because chickens not laying eggs means unhealthy chickens. The more you can detect that and keep up with that means that you have better control over what's happening inside your poultry houses."
Anderson is one of the many experts scheduled to speak at the Poultry Tech Summit, scheduled for October 30 - November 1 in Atlanta, Georgia. This one-of-a-kind in-person event facilitates the transition of innovation technologies from researchers and entrepreneurs into commercial applications for the benefit of the poultry industry.
Make plans to attend and take a look at the future of the industry.
Registration for the 2022 Poultry Tech Summit is now open with early bird savings available.
Computer vision provides a more accurate egg count
Computer vision could enable a more accurate egg count on the layer belt while also providing row level egg weights and quality checks for dirt, cracks and more.
"What we're trying to do is use multiple counters in a series to have them self-check against themselves," Anderson explained.
The system uses an infrared scanner, sonic sensors and visual imaging software to monitor the eggs running along the conveyer belt. An algorithm in the software processes the images that pass by frame by frame and can recognize eggs.
Together, this technology provides multiple approaches for counting and weighing eggs, improving the accuracy.
The team developed a prototype of the egg counting and weighing machine and they plan to test the computer vision technology in the field later this year.
Attend the 2022 Poultry Tech Summit
Join an exclusive international gathering of industry-changing innovators, researchers, entrepreneurs, technology experts, investors and leading poultry producers at the 2022 edition of Poultry Tech Summit on October 30 - November 1 in Atlanta, Georgia.
Attendees can expect the same groundbreaking innovation and insightful presentations that made the previous events well-attended with deep dialogue on new prospective solutions and next-generation technologies. Poultry Tech Summit focuses on the transition of innovative technologies into commercial applications to advance the poultry industry.
Registration is now open with early savings available.