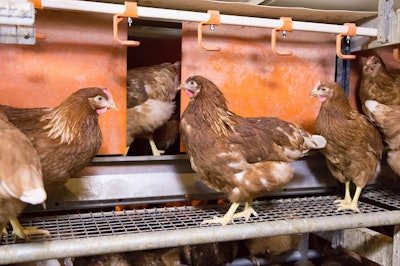 Imaging technology could replace manual monitoring in cage-free houses by helping producers automatically track pecking behaviors and floor eggs.
Cage-free environments have led to multiple production issues for egg producers, including floor eggs, higher mortality rates, bird injuries, piling and pecking behaviors, explained Lilong Chai, University of Georgia Assistant Professor and Poultry Engineering Specialist, at the 2022 Poultry Tech Summit.
"Currently, floor eggs and pecking are monitored manually by farm staff multiple times a day, which is labor intensive, time consuming and subject to human errors," he said.
However, researchers at the University of Georgia are developing specific imaging technologies, or deep learning models, that will monitor and track cage-free hens' pecking and floor egg laying behaviors.
The new technology can notify farm employees where floor eggs are laid, which can allow for egg collection in a timely manner and a reduction in contamination. Additionally, it could give insight to cage-free producers concerning environmental triggers that could lead to increased or decreased pecking behaviors.
The ability to automatically monitor pecking could help growers reduce bird injuries and cannibalism, as well as decrease farm economic losses and improve animal welfare management, Chai continued.
Graphs can be generated from the data collected, giving producers the ability to track trends of where and when floor eggs are being laid, or pecking behaviors by flock.
Chai hopes that the deep learning technology will help reduce pecking related losses and improve floor egg collection, as well as promote animal welfare management and precision poultry farming. Chai is looking for an industry partner to test the technology in larger houses or commercial systems.
Attend the 2023 Poultry Tech Summit
Join an exclusive international gathering of industry-changing innovators, researchers, entrepreneurs, technology experts, investors and leading poultry producers at the 2023 edition of Poultry Tech Summit on November 6-8 at the Hilton Atlanta Airport in Atlanta, Georgia.
Attendees can expect the same groundbreaking innovation and insightful presentations that made the previous events well-attended with deep dialogue on new prospective solutions and next-generation technologies. Poultry Tech Summit focuses on the transition of innovative technologies into commercial applications to advance the poultry industry.
Registration for this event will open in the spring of 2023.