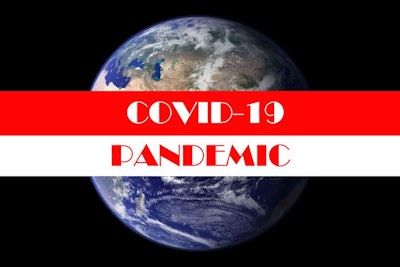 COVID-19 is reshaping the global poultry trade and will continue to do so for months or years after the pandemic is under control.
As part of the Virtual Poultry Tech Summit 2020, a panel of veteran poultry industry executives and analysists convened to discuss current trends affecting the sustainability of the global business. The discussion, which took place on October 20, 2020, was hosted by Aidan Connolly, president of AgriTech Capital and featured the following panelists:
Gordon Butland, the director of G&S Agriconsultant Co. Ltd.
Osler Desouzart, CEO of OD Consulting, Market Planning & Strategy
Philip Wilkinson, the executive director of 2 Sisters Food Group
The global pandemic
The panelists, representing perspectives from Europe, South America and Southeast Asia, said the disease is having far-ranging effects on business even if each individual country's experience with COVID differs.
In the United Kingdom, the disease caused plant closures, disrupted supply chains and severely reduced demand for chicken products from foodservice customers. Wilkinson said the closures lead to some birds being slaughtered on farm. Moreover, the disease continues to be a problem nearly nine months after its arrival in Europe and is causing further lockdowns in the country due to a heightened level of hospitalizations.
Desouzart said even though the disease was a major issue in Brazil, the country's industry was able to see a small amount of growth – or at least lose no ground – thanks to new, quickly enacted protocols and procedures designed to keep the industry functioning during the pandemic. While beef and pork producers faced closures, the Brazilian chicken industry did not see any disruptions in its slaughter and processing operations.
Moreover, as an exporter Brazil will continue to do whatever its asked to move its products. Desouzart said the country doesn't see any business as too small, which is why it is currently exporting to more than 150 countries.
In Thailand, the biggest problem, Butland said, is the pandemic's disruption of demand for its exports. He forecasts greater disruptions still to come on that front. More specifically, there is now an imbalance in the supply of breast meat, chicken feet and middle wings.
Wilkinson said, to Butland's point about exports, there are now massive stocks of frozen chicken all over the world due to a demand slump from global foodservice. Even when the pandemic ends, he said, it won't mean things are back to normal. It will take a year to 18 months before those excess stocks are cleared.
That said, Wilkinson said – and Desouzart agreed – that its still a good time to be in the chicken business because of the fundamental demand the global population has for healthy, affordable protein.
Automation and robotics
Due to constant advances in technology, chicken producers and processors are taking further steps toward automating certain live operations and adopting further automation of processing plants.
Desouzart said every Brazilian producer is contemplating the role of automation and robotics in their processing operations but there are still advances to be made in improving the efficiency of the broiler house. New sensor technology and software can help automate certain processes on the farm, or allow a single farmer to monitor more birds and take quicker when needed, which is helpful.
That said, smaller producers will have a harder time automating their packing operations. Nevertheless, he predicts those who cannot successfully automate their sizing and packaging operations will not stick around long in the future.
In Thailand, Butland said, cheap and available labor will continue to be a strength for now. However, in the future there will be a greater need for automation and streamlining of every phase of the supply chain. Due to the labor availability, automation will be slower in southeast Asia, he predicted, until there is proof of a return on investment in the technology for integrators in that region of the world.
One point to consider, Butland said, is although there is a considerable amount of new, impressive technology available for live production much of it is out of reach of the small- and medium-sized growers that grow most of the world's poultry. Some places don't have the human resources, so they will see the value in paying more for live production technology, but other regions don't have the financial resources or the technical infrastructure. Because of this, he said, smaller and medium sized companies will be slow to adopt automation in processing and live operations or may never make the investment.
Backwards integration
In the United States, Costco Wholesale Corp. is making waves by starting up its own chicken growing and processing operation. Other retail giants, like Walmart Inc., are now reportedly looking into this so-called backward integration.
Butland said while that's interesting, Costco's operation is still an experiment and the company is in an exceedingly unique situation where its big enough to afford the infrastructure and its able to service a significant portion of its stores from a single processing operation located in the middle of the country. If another, differently structured store was to attempt this, it would require multiple operations located all over the country to serve its market.
Moreover, Butland said, Costco is not using and selling every part of the chicken. He said he wants to see a company make use of all the bits and pieces of a bird before he's convinced of the backward integration strategy's mainstream viability for retailers.
Wilkinson, who oversees operations both in the U.K. and Australia, said that other retailers around the world do have vertical integration of certain agricultural operations, but they are geographically limited and are involved in less intensive operations than chicken growing and processing.
He agreed with Butland's point about using all the bird, and the logistical challenges of running a national chicken operation, and said a more viable route forward would involve a partnership between the retailers attempting backwards integration and the established integrated poultry producers.
Alternative proteins
The panelists were also asked about the issue of alternative proteins and meat substitutes and whether they constitute an existential threat to the industry.
Wilkinson said he, and others in the protein industry, take the companies selling the alternative products seriously and are concerned with the amount of the market they could potentially capture. However, he said he sees the limitation of demand for products based on replacing or substituting meat because on a fundamental level, they don't taste as good as the product they are trying to imitate. That said, he takes the competition seriously but doesn't currently see it as a threat to the global protein industry.
Desouzart said the plant-based and alternative protein products are appealing to activists and those concerned with a meat-free lifestyle but otherwise they are not mainstream. They have a place in the market, certainly, but they will not overtake global demand for animal protein in an increasingly populated world.
Attend the 2021 Poultry Tech Summit
Join an exclusive international gathering of industry-changing innovators, researchers, entrepreneurs, technology experts, investors and leading poultry producers at the 2021 edition of Poultry Tech Summit on October 31 - November 2 in Atlanta, Georgia. Attendees can expect the same groundbreaking innovation and insightful presentations that made the previous events well-attended with deep dialogue on new prospective solutions and developing technologies.
View our continuing coverage of the coronavirus/COVID-19 pandemic.
Like what you just read? Sign up now for free to receive the Poultry Future Newsletter.