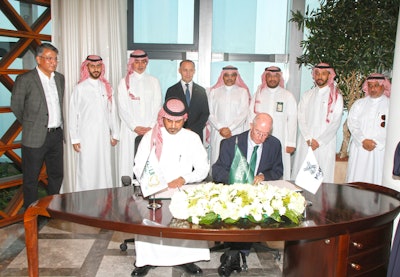 Tanmiah Food Company
Further agreement has been reached between Tanmiah Food Company of Saudi Arabia and MHP of Ukraine over the formation of a new joint venture.
Last week, a ceremony was held in the Saudi Arabian commercial capital, Jeddah, to mark the latest phase in an ongoing partnership between one of the Kingdom of Saudi Arabia's leading poultry companies and one Europe's largest agri-food groups.
It was held to mark the signing of a shareholder agreement between Desert Hills Veterinary Services Company Limited (DHV) — a fully owned subsidiary of Tanmiah Food Group — and Ukraine-based MHP SE.
Based on a Memorandum of Understanding between the partners signed earlier this year, the latest agreement also sets out to increase food security in Saudi Arabia, and raise self-sufficiency in poultry products.
Under the new joint venture, DHV will have a 55% share, and MHP the remaining 45%.
With a total investment of 200 million riyal (SAR; US$53 million), the new farming entity will have an expected annual output of around 175 million hatching eggs from one million parent birds. Also included are a hatching facility and poultry feed mill.
Key benefits of the new joint venture
For Tanmiah, the partnership with MHP demonstrates the firm's commitment to strengthening Saudi Arabian's food security, according to the company's CEO, Zulfiqar Hamadani.
"We are building facilities that are critical in the entire poultry ecosystem in Saudi Arabia, increasing non-oil GDP private sector contribution, local employment opportunities, and knowledge transfer," said Ahmed Bin Sharaf Osilan, Executive Board Member and Managing Director of Tanmiah Food Company.
Representing MHP, executive chairman Dr John Rich said the closer alliance with Tanmiah is a strategic part of MHP's global influence. He added that the deeper relationship benefits not only its partners, but also Saudi Arabia and the Middle East region.
In recent weeks, Tanmiah Food Company reported that higher sales in the first quarter of the current fiscal year were followed by a further period of increase net revenue during the second quarter. Sales were up by more than 14%, driven particularly by fresh poultry, although net profit was reported to have dropped year-on-year.
New initiative to boost Kingdom's organic poultry production
One month ago, a new scheme was launched to attract investment in Saudi Arabia's organic poultry sector.
Aim of the move by the Ministry of Environment, Water, and Agriculture is to raise the share of overall production by this sector to 5%, reported Arab News.
In line with Saudi Good Agricultural Practices (Saudi GAP), the initiative will cover financing and technical support.
At the launch event, ministry's undersecretary Ahmed bin Saleh Al-Ayada said local companies and foreign investors participating in the scheme would be offered facilities and land at reduced prices.
Previously, several measures have been announced under the Kingdom's National Strategy for Agriculture 2030. These aim to increase domestic food production and improve food security through sustainable practices.
For the poultry sector alone, a sum of SAR17 billion has been set aside to boost production to a target of 80% self-sufficiency by 2025.
According to a report in Arabian Business in April, the Kingdom's poultry industry could reach the same value — SAR17 billion — by that year.