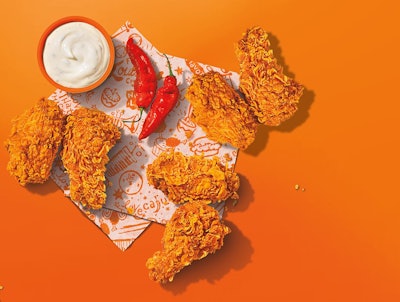 Popeyes
Consumers hankering for chicken wings will be happy to learn that after many restaurants and foodservice outlets had cut back on their wing offerings, the popular protein is bouncing back.
In fact, the CEO of the country's second largest poultry producer found that fact so significant, he spoke of it during the company's most recent earnings call on July 27.
"As of now, we're already seeing a lot of foodservice operators bringing wings back to the menu and increasing their promotions of bone-in wings, instead of boneless wings," said Fabio Sandri, CEO of Pilgrim's Pride.
The timing of that announcement couldn't be better. Even though Sandri didn't mention it, July 29 is National Chicken Wing Day, and a quick Google search shows that there are plenty of people who are celebrating. And so are many restaurants, including chains like Buffalo Wild Wings, Wingstop, Hooters, Dickey's Barbecue Pit, Zaxby's, and even Fazoli's.
Bone-in versus boneless wings argument resurfaces
While many earnings calls of publicly traded poultry companies are often humorless, I did get a little bit of a chuckle from a comment made from one analyst.
"Fabio, I take umbrage, having grown up in Buffalo, New York, that there's an idea of a boneless wing, versus bone-in," said Bank of America analyst Peter Galbo. "I just wanted to make sure that that was on the record."
Obviously, Galbo isn't the only one with that opinion. Ander Christensen, the Nebraska man who has dedicated a good portion of his time to crusading for the end of the use of the "boneless wings" term since he first took his message to the Lincoln City Council, is certainly one person who came to mind. And so did the many of callers when he recently did a talk radio show on the topic of wings.
Now, I previously mentioned Fazoli's celebration of National Chicken Wing Day. That struck me as odd, because I usually get lasagna, spaghetti or some other form of Italian-esqe food while I am there. And I always enjoy what I eat. I had no clue they even served wings.
Then, I read a little bit further into a report on Cheapism, and saw that Fazoli's promotion was actually for five free boneless wings with any purchase.
Oh well. You've got to give them credit for trying.
I hope everyone out there enjoys some wings, or if they prefer, "boneless wings" on National Chicken Wing Day.